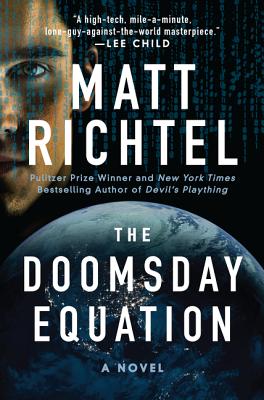 The Doomsday Equation
A Novel
Paperback

* Individual store prices may vary.
Description
From the Pulitzer Prize-winning New York Times journalist and author of A Deadly Wandering comes a pulse-pounding technological thriller—as ingenious as the works of Michael Crichton and as urgent and irresistible as an episode of 24—in which one man has three days to prevent annihilation: the outbreak of World War III.
Computer genius Jeremy Stillwater has designed a machine that can predict global conflicts and ultimately head them off. But he's a stubborn guy, very sure of his own genius, and has wound up making enemies, and even seen his brilliant invention discredited.
There's nowhere for him to turn when the most remarkable thing happens: his computer beeps with warning that the outbreak of World War III is imminent, three days and counting.
Alone, armed with nothing but his own ingenuity, he embarks on quest to find the mysterious and powerful nemesis determined to destroy mankind. But enemies lurk in the shadows waiting to strike. Could they have figured out how to use Jeremy, and his invention, for their own evil ends?

Before he can save billions of lives, Jeremy has to figure out how to save his own. . . .
Praise For The Doomsday Equation: A Novel…
"A high-tech, mile-a-minute, lone-guy-against-the-world masterpiece." — Lee Child, New York Times bestselling author of the Jack Reacher series
"A blockbuster event. The Doomsday Equation blew me away." — James Rollins, New York Times bestselling author of The Sixth Extinction
"The strong setup and sharp elbows of 'The Doomsday Equation' prove that Richtel has the potential to write a blockbuster." — New York Times Book Review
"Richtel's journalistic background makes this nightmarish, incredible scenario, chillingly believable and scary as hell." — New York Times bestselling author Linwood Barclay
"Tantalizing. ... Engrossing. ... [A] race-against-the-clock suspense novel." — Publishers Weekly
"An adventure-filled race against time." — Booklist
"The Doomsday Equation is a first-rate thriller sure to keep readers mesmerized all the way to the last page." — Oklahoma City Oklahoman
"A race against time worthy of a Hollywood blockbuster." — Winnipeg Free Press
"One of our best thriller writers." — Connecticut Post
"Fast paced but well-plotted, cerebral, yet exciting, Matt Richtel's latest is the perfect antidote for those who miss the works of the late great Michael Crichton." — Mystery Scene
"A page-turner." — Marin Independent Journal
William Morrow Paperbacks, 9780062201188, 384pp.
Publication Date: February 24, 2015
About the Author
Matt Richtel is a Pulitzer Prize–winning New York Times reporter and bestselling nonfiction and mystery author. He lives in San Francisco with his wife, Meredith, a neurologist, and their two children. In his spare time, he plays tennis and piano and writes (not very good) songs. Visit him online at www.mattrichtel.wordpress.com.