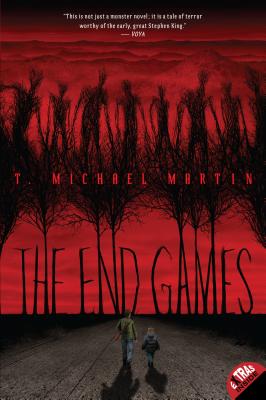 The End Games
Paperback

* Individual store prices may vary.
Description
John Green meets Stephen King in this original take on the zombie apocalypse by author T. Michael Martin, which ALA Booklist called "the best of the undead bunch" in a starred review.
Seventeen-year-old Michael and his five-year-old brother, Patrick, have been battling monsters in the Game for weeks. In the rural mountains of West Virginia—armed with only their rifle and their love for each other—the brothers follow Instructions from the mysterious Game Master. They spend their days searching for survivors, their nights fighting endless hordes of "Bellows"—creatures that roam the dark, roaring for flesh. And at this Game, Michael and Patrick are very good. But the Game is changing. The Bellows are evolving. The Game Master is leading Michael and Patrick to other survivors—survivors who don't play by the rules. And the brothers will never be the same.
T. Michael Martin's debut novel is a transcendent thriller filled with electrifying action, searing emotional insight, and unexpected romance.
Praise For The End Games…
"Martin's debut is the best of the undead bunch, meshing relentless action, intelligence, and emotion in a way that recalls Patrick Ness' The Knife of Never Letting Go (2008)....Very. Exciting. Book." — Booklist (starred review)
"Martin covers familiar territory—zombies, conspiracies, post-apocalyptic romance—but does so with style in this exciting debut novel. . . . the West Virginia setting, tense action, devoted fraternal relationship, and Michael's lovers-in-dangerous-times romance with a girl named Holly will keep teens hooked." — Publishers Weekly
"Watching Michael as he struggles to find a safe haven in a world that has gone to hell is thrilling and utterly engaging. This is not just a monster novel; it is a tale of terror worthy of the early, great Stephen King." — Voice of Youth Advocates (VOYA)
"In a new take on the zombie apocalypse, 17-year-old Michael and his 5-year-old, autistic brother struggle to find safety in the mountains of West Virginia…. It packs an emotional wallop, particularly when it comes to Michael's determination to protect his sibling." — School Library Journal
"This is one of the sharpest, most unexpected zombie novels I've read in a long time." — Mira Grant, bestselling author of the Newflesh trilogy
"The End Games clutches the reader with chilling action, cushioning the gore with the love shared between two brothers, leaving enough cracks in the despair so that the reader is allowed to hope that humanity will trump all." — S.A. Bodeen, author of The Compound
"The End Games is my kind of book. It's tense right from the first chapter - and believe me, it stays tense. It plays startling games with your head - lots of twists and surprises. A great read from a great new talent." — R.L. Stine, bestselling author of the Goosebumps series
"The End Games is my favorite kind of zombie story: utterly thrilling, deeply moving, beautifully written, and entirely unputdownable. A must read!" — Carrie Ryan, author of The Forest of Hands and Teeth
"Provocative, action-packed and unexpectedly stirring, full of twists and turns that you'll never see coming, T. Michael Martin's The End Games will shock and move you." — Pittacus Lore, author of I Am Number Four
"It's full of both jaw-dropping action and heart-twisting beauty. It's a thrill ride that makes you think and feel: terrifying and joyful, funny and moving." — Sara Zarr, National Book Award Finalist for Story of a Girl
"A stunningly intelligent, thrilling story about family and love that just happens to include some zombies." — John Green, New York Times bestselling author of The Fault in Our Stars
Balzer + Bray, 9780062201812, 400pp.
Publication Date: May 6, 2014
About the Author
T. Michael Martin is a novelist and vlogger who holds a BFA in filmmaking from the University of North Carolina School of the Arts. He and his wife, Sarah, live in Indianapolis.