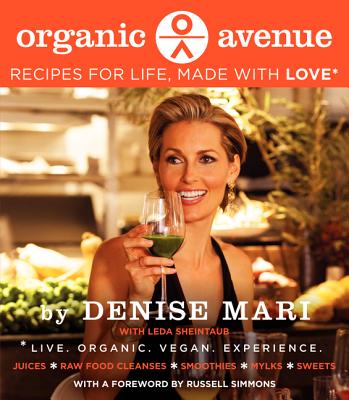 Organic Avenue
Recipes for Life, Made with LOVE*
Hardcover

* Individual store prices may vary.
Description
Replicate the go-to cleanse for Hollywood A-listers at home with this beautifully designed, lavishly illustrated, and inspiring lifestyle book by Denise Mari, founder of Organic Avenue, the hugely popular juice cleansing and raw vegan lifestyle company.
Denise Mari, founder of Organic Avenue, went from peddling her fresh juices from a backpack in the Lower East Side of New York to opening a booming business and brand. Her delicious, sustainable, and compassionate food has become a favorite of stars like Gwyneth Paltrow, Jennifer Aniston, and Meg Ryan. Now, through this stunning book, her fabulous juice cleanse programs and nutritious, mouthwatering food will be available to readers who care about being healthy inside and out. Enjoy the juices, elixirs, soups, smoothies, salads, entrees, snacks, and desserts—all using pure, nutrient-rich, organic, and raw ingredients—that have transformed Organic Avenue into one of today's hottest brands.
But Organic Avenue isn't just about eating. It's about living. Mari tells the moving story behind her brand's healthy philosophy and shares its ideals—sustainability, compassion, dedication to uncompromising quality, and holistic living—offering suggestions everyone can use to detoxify their bodies and transform their lifestyles to become happier, healthier, thinner and more energized, focused, balanced, and inspired.
Illustrated with dozens of gorgeous, full-color photos and beautifully crafted Organic Avenue includes adaptable cleanse programs for bright eyes and glowing skin, weight loss, improved stamina, positive thinking, inner calmness, and mental clarity. Feel good and live well with DIY access to Organic Avenue's never-before-published recipes and philosophy for living.
Praise For Organic Avenue: Recipes for Life, Made with LOVE*…
Organic Avenue has made the vegan lifestyle more accessible, and it is one of the few food and juice companies I trust. I love the convenience of waking up and having my fridge filled with juice and raw food. With this book, Denise shares her vision with the whole country. — Russell Simmons
An inspiring cookbook to help us live a more compassionate, sustainable, and healthy lifestyle. — Deepak Chopra, bestselling author and holistic health guru
Organic Avenue has had a profound impact on my relationship with food and the environment. This book will make the gap smaller between wanting to do good for yourself and your family and being able to do so. I recommend it highly. — Senator Cory Booker
Denise Mari pioneered the live-food, juice, and cleanse movement in New York City. Organic Avenue is a great handbook for both gourmet and practical applications. — Dr. Oz Garcia, celebrity nutritionist
Ever wish there was an Organic Avenue everyplace you traveled? Well, this great book by Denise Mari is a step in the right direction! — Owen Wilson, actor
Denise and Organic Avenue make delicious raw food that is ready to go instantly and is helpful every time. — Woody Harrelson, actor
Denise Mari is an inspiration. With this book, anyone embarking on a journey to well-being can have Denise as their guide. — Joe Cross, director of Fat, Sick & Nearly Dead and founder and CEO of Reboot with Joe
William Morrow Cookbooks, 9780062202215, 368pp.
Publication Date: April 22, 2014
About the Author
Denise Mari founded Organic Avenue in 2002. She holds a master's degree in education and continues to pursue progressive health education in the fields of hydrotherapy, live- and dry-blood cell analysis, holistic healing, plant-based nutrition, and fasting and cleansing utilizing the raw- and living-food lifestyle. Denise pracices Vipassana meditation and Dharma Mittra yoga. She has traveled extensively in search of truth, love, and well-being. Most recently she launched a wellness-focused bed-and-breakfast in Westhampton Beach, New York, where she continues to share her knowledge and provide a place for people to get away and get clear. Her blog, with recipes and support for transitioning, maintaining, and thriving via the LOVE* lifestyle, can be found at www.DeniseMari.com. For daily tips and inspiration follow her on Twitter @denisemariLOVE.
Book Videos
or
Not Currently Available for Direct Purchase