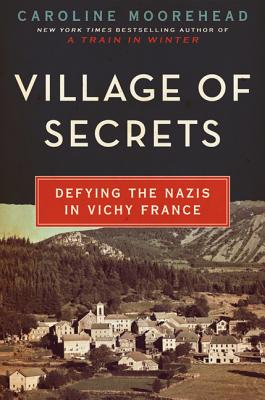 Village of Secrets (Hardcover)
Defying the Nazis in Vichy France (The Resistance Quartet #2)
Harper, 9780062202475, 384pp.
Publication Date: October 28, 2014
Other Editions of This Title:
Digital Audiobook (10/27/2014)
Paperback (10/27/2015)
Paperback, Large Print (10/28/2014)
Pre-Recorded Audio Player (10/14/2014)
Compact Disc (10/14/2014)
Compact Disc (10/14/2014)
* Individual store prices may vary.
Description
From the author of the New York Times bestseller A Train in Winter comes the absorbing story of a French village that helped save thousands hunted by the Gestapo during World War II—told in full for the first time.
Le Chambon-sur-Lignon is a small village of scattered houses high in the mountains of the Ardèche, one of the most remote and inaccessible parts of Eastern France. During the Second World War, the inhabitants of this tiny mountain village and its parishes saved thousands wanted by the Gestapo: resisters, freemasons, communists, OSS and SOE agents, and Jews. Many of those they protected were orphaned children and babies whose parents had been deported to concentration camps.
With unprecedented access to newly opened archives in France, Britain, and Germany, and interviews with some of the villagers from the period who are still alive, Caroline Moorehead paints an inspiring portrait of courage and determination: of what was accomplished when a small group of people banded together to oppose their Nazi occupiers. A thrilling and atmospheric tale of silence and complicity, Village of Secrets reveals how every one of the inhabitants of Chambon remained silent in a country infamous for collaboration. Yet it is also a story about mythmaking, and the fallibility of memory.
A major contribution to WWII history, illustrated with black-and-white photos, Village of Secrets sets the record straight about the events in Chambon, and pays tribute to a group of heroic individuals, most of them women, for whom saving others became more important than their own lives.
About the Author
Caroline Moorehead is the New York Times bestselling author of Village of Secrets: Defying the Nazis in Vichy France; A Train in Winter: An Extraordinary Story of Women, Friendship, and Resistance in Occupied France; and Human Cargo: A Journey Among Refugees, which was a finalist for the National Book Critics Circle Award. An acclaimed biographer, Moorehead has also written for the New York Review of Books, the Guardian, the Times, and the Independent. She lives in London and Italy.
Praise For Village of Secrets: Defying the Nazis in Vichy France (The Resistance Quartet #2)…
"[Moorehead] has done us the great service of unveiling the real lives behind the myth and in demonstrating that fallible human beings are far more interesting and dramatic figures than those who make up the stuff of legends."
— New York Times Book Review

"The definitive account… [an] unblinking exposé of resistance during the war."
— Wall Street Journal

"Le Chambon has long been mythologized in France for the actions of its inhabitants…. But, as this riveting history shows, the story is more complex... If the picture Moorhead paints is messier than the myth, this only serves to enhance the heroism of the main actors."
— The New Yorker

"Informative, comprehensive, and nuanced….Moorehead's deeply researched, crisply written, and well-paced work will stand as the definitive account of a heroic, hazardous, and uplifting initiative during the German occupation."
— Publishers Weekly

"An exciting history of nearly forgotten individual and group courage. Highly recommended."
— Library Journal, starred review

"Moorehead not only recounts the heroics but also the everyday ordinariness of those involved, busting the embellished mythology while emphasizing the essential humanity of the entire operation."
— Booklist

"The vivid narrative takes on a cliffhanger quality….a rich, haunting account that leaves us with an uncomfortable question: What might have happened if more people had refused to go along?"
— Minneapolis Star Tribune

"A wonderful story of the people of more than 20 communes who saved more refugees, proportionately, than anywhere else in France….Moorehead's knowledge of the people, the area and the history make this one of the most engrossing survival stories of World War II."
— Kirkus

"Leaves one with a mixture of elation and great sadness. And it obliges the reader to stare at facts each of which is like the head of a Gorgon."
— New York Review of Books

"Harrowing and luminous…. Even this pessimist could not have imagined the death camps of the Third Reich, or the villainy of Adolf Hitler's French collaborators. Their indecency has been exposed many times since the end of WWII, but rarely with the force and detail of Caroline Moorehead's Village of Secrets."
— Moment

"The remote French village of Le Chambon-sur-Lignon…. has been the subject of numerous articles, books, and films. But Moorehead's Village of Secrets is the best account I've seen in any medium. Emphatically not a debunking, this telling of the story is nonetheless deeply nuanced."
— Christianity Today

Praise for A Train in Winter: "By turns heartbreaking and inspiring."
— New York Times Book Review on A Train in Winter

"A moving novelistic portrait. . . . An inspiring and fascinating read."
— People, 3½ stars, on A Train in Winter

"A Train in Winter is the first complete account of these extraordinary women. . . . Moorehead's group portrait offers an important new perspective not only on the suffering and courage of those in Auschwitz and other concentration camps, but of the complex French response to the German occupation. Careful research and sensitive retelling."
— Boston Sunday Globe on A Train in Winter