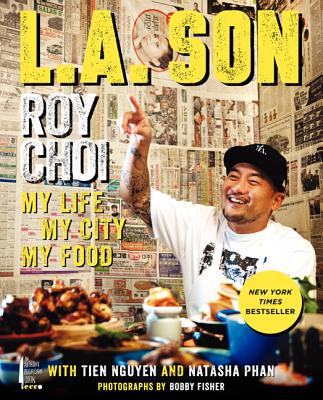 L.A. Son
My Life, My City, My Food
Hardcover

* Individual store prices may vary.
Description
A memoir and cookbook from the creator of the gourmet Korean-Mexican taco truck Kogi, the star of Netflix's "The Chef Show," and the culinary advisor to Jon Favreau's film "Chef."
"Roy Choi sits at the crossroads of just about every important issue involving food in the twenty-first century. As he goes, many will follow."—Anthony Bourdain
From the maverick chef the New Yorker called "The David Chang of L.A." comes a cookbook that's as inventive, creative, and border-crossing as the city to which it pays homage: Los Angeles.
Los Angeles: A patchwork megalopolis defined by its unlikely cultural collisions; the city that raised and shaped Roy Choi, the boundary-breaking chef who decided to leave behind fine dining to feed the city he loved—and, with the creation of the Korean taco, reinvented street food along the way.
Abounding with both the food and the stories that gave rise to Choi's inspired cooking, L.A. Son takes us through the neighborhoods and streets most tourists never see, from the hidden casinos where gamblers slurp fragrant bowls of pho to Downtown's Jewelry District, where a ten-year-old Choi wolfed down Jewish deli classics between diamond deliveries; from the kitchen of his parents' Korean restaurant and his mother's pungent kimchi to the boulevards of East L.A. and the best taquerias in the country, to, at last, the curbside view from one of his emblematic Kogi taco trucks, where people from all walks of life line up for a revolutionary meal.
Filled with over 85 inspired recipes that meld the overlapping traditions and flavors of L.A.—including Korean fried chicken, tempura potato pancakes, homemade chorizo, and Kimchi and Pork Belly Stuffed Pupusas—L.A. Son embodies the sense of invention, resourcefulness, and hybrid attitude of the city from which it takes its name, as it tells the transporting, unlikely story of how a Korean American kid went from lowriding in the streets of L.A. to becoming an acclaimed chef.
Praise For L.A. Son: My Life, My City, My Food…
Street-wise, honest in its admission of trials and punctuated with vernacular swagger, Choi's debut pays tribute to family and his enduring fascination with the melting pot of Los Angeles. — Kirkus Reviews
"While [Jacques] Pepin's autobiography was the epitome of the traditional chef's life, it may be that Choi's will be the same for the new generation … "L.A. Son," co-written with Tien Nguyen and Natasha Phan, pops with Choi's hip-hop verbal rhythms." — Los Angeles Times
'With driving metaphors coming fast and furious throughout this memoir cum cookbook, there is no doubting and no pulling away from Choi's gritty embrace of L.A.'s mean streets." — Publishers Weekly (starred review)
"Choi is the rare chef whose life story--which includes working with chef Eric Ripert and a weeklong cocaine binge--is as compelling as his food." — Food & Wine
"At the moment, Roy Choi is one of the most prominent lenses the nation has into L.A." — Los Angeles Times
His beautiful book .... is two parts story (Choi's coming up), one part recipe (his OMG crazy good creations, like ketchup fried rice). You may never cook from this book (though the recipes are eminently doable), but it won't matter. It's a fun flip even if all you do is drool." — Lisa Ko, author of The Leavers
"A a memoir-cookbook that moves like a novel." — New York Times, cover of 'Dining' Section, in article about Roy's new restaurant
"In its pages, and even more so in person, one finds in Choi a personality who is at once high-end and low-end, flawed and at the top of his game, relentless and chill, coarse and refined-and absolutely, unapologetically authentic." — Ad Week
Anthony Bourdain/Ecco, 9780062202635, 352pp.
Publication Date: November 5, 2013
Coverage from NPR