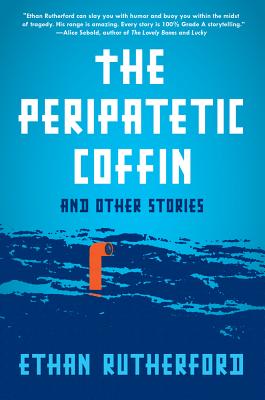 The Peripatetic Coffin and Other Stories
Paperback

* Individual store prices may vary.
Description
The stories in The Peripatetic Coffin and Other Stories, a collection from Ethan Rutherford, map the surprising ways in which the world we think we know can unexpectedly reveal its darker contours.
In stories that are alternately funny, persuasive, and compelling, unforgettable characters are confronted with, and battle against, the limitations of their lives.
Rutherford's work has been selected by Alice Sebold for inclusion in the volume of The Best American Short Stories that she edited, and also published in Ploughshares, One Story, and American Short Fiction.
Praise For The Peripatetic Coffin and Other Stories…
"Rutherford's sharp, inspired debut collection runs the gamut of emotion and genre, blending laughter and misery, reality and fantasy, in eight tales that ponder the methods in which humans achieve isolation. . . . These are robust, engaging stories."
— Publishers Weekly (starred review)

"[A] fine debut collection. The stories serve as compass points on a map of desolation and isolation. . . . This is a beautiful book about human suffering, about human quandaries. It is also about bravery, history, love, longing, scientific and sexual exploration."
— Minneapolis Star Tribune

"Refreshingly raw . . . [Rutherford's] powerful debut presents each scenario in a humorous, reality-based manner, exploring life's various limitations and exposing the truth of its unpredictability... Rutherford reveals something painstakingly humane and beautiful in mistakes and misdirection."
— Nylon Magazine

"Rutherford's mastery of setting and world building lends these stories tangible reality... compulsively readable plots... the sweetness and strength of his characters, who face up to loss, misfortune, and heartbreak with courage and a weird kind of humor... makes these stories both resonant and rereadable."
— Booklist

"The Peripatetic Coffin, Ethan Rutherford's debut collection of short stories, is a keeper. His work creeps up on you when you're not looking. . . . Eight masterful tales inject power, subtlety and emotion into an unforgettable cast of beleaguered, doomed characters."
— Shelf Awareness

"Oh how I love these stories! Ethan Rutherford can slay you with humor and buoy you within the midst of tragedy. His range is amazing. Every story is 100% Grade-A storytelling. I bow down to The Peripatetic Coffin."
— Alice Sebold, author of The Lucky Bones and Lucky

"This is a flat-out beautiful book of stories... Not all books of stories are page-turners, but this one is."
— Charles Baxter, author of National Book Award finalist The Feast of Love

"Rutherford's wildly inventive collection is nothing short of a revelation.... no experience is beyond this very fine writer's ambitious grasp. He gives us the world with each story, with the world's full measure of heartbreak and hilarity."
— Ben Fountain, author of National Book Award finalist Billy Lynn's Long Halftime Walk

"Funny and wrenching, featuring hapless fatalists who nonetheless never stop striving, even as they continue to squander opportunities. And yet they never let us forget that there's always the possibility that they will learn--even if it's the hard way--to see beyond themselves."
— Jim Shepard, author of author of National Book Award finalist Like You'd Understand, Anyway

"My desert island book. The one I will always carry with me... each story is a vessel of longing and possibility; collectively, they present a mosaic of our past and our future, reinvigorating the art of storytelling... a revelatory feat of the imagination... an incomparable, vital debut."
— Paul Yoon, author of Once the Shore

"Ethan Rutherford's stories are absolutely perfect. He writes with such sensitivity and clarity about how and why things come undone and fall apart. I rarely feel this close to heartbreak, this strengthened by a writer clearly doing something special"
— Kevin Wilson, author of The Family Fang

"A confident and winning collection, every story in The Peripatetic Coffin feels necessary and true. Ethan Rutherford gets it."
— Patrick DeWitt, author of The Sisters Brothers
Ecco, 9780062203830, 240pp.
Publication Date: May 7, 2013
About the Author
Ethan Rutherford's fiction has appeared in Ploughshares, One Story, American Short Fiction, and The Best American Short Stories. Born in Seattle, he now lives in Minneapolis with his wife and son.
or
Not Currently Available for Direct Purchase