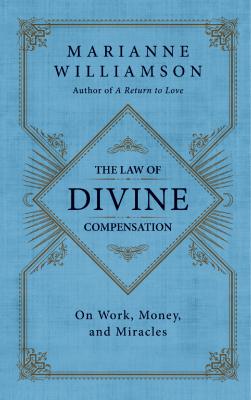 The Law of Divine Compensation (Hardcover)
On Work, Money, and Miracles
HarperOne, 9780062205414, 208pp.
Publication Date: November 27, 2012
Other Editions of This Title:
Digital Audiobook (11/12/2012)
* Individual store prices may vary.
Description
Marianne Williamson is a bestselling author (Return to Love, Healing the Soul of America), a world-renowned teacher, and one of the most important inspirational thinkers of our time. In The Law of Divine Compensation, she reveals the spiritual principles that help us overcome financial stress and unleash the divine power of abundance. A guru to anyone interested in spirituality, Williamson's words ring with power and truth as she assures us that, with faith in God's promise of prosperity for all, we need never fear the future.
About the Author
Marianne Williamson is an internationally acclaimed author, speaker, and activist. Six of her published books have been New York Times bestsellers. Her books include A Return to Love, A Year of Miracles, The Law of Divine Compensation, The Gift of Change, The Age of Miracles, Everyday Grace, A Woman's Worth, and Illuminata. She has been a popular guest on television programs such as Oprah, Good Morning America, and Charlie Rose.
Praise For The Law of Divine Compensation: On Work, Money, and Miracles…
"Author, activist, and spiritual leader Marianne Williamson is often considered one of the defining voices for a new generation of spiritual seekers."
— Spirituality and Health magazine

"Williamson may be the most renowned spiritual activist and author teaching spiritual principles based on A Course in Miracles. This latest book… addresses the ways we attract miracles or deflect them… with a focus on the particular attitudes that will pave the way to material abundance."
— Publishers Weekly

"Williamson focuses on what defines meaningful work and how our jobs can be an extension of our spirituality. As she teaches … the sense of endless possibility to reshape our lives unfolds."
— Huffington Post

"The Law of Divine Compensation assures us that everything will be all right since the universe is set up to work for us. … We are challenged to believe that miracles do happen and what is lacking can become abundant."
— Spirituality and Practice

"Williamson's easy, caring writing style makes almost anything seem possible, and here it is used to best advantage."
— Booklist

"If you have trouble allowing money to flow abundantly into your life, by all means, pick up a copy of Marianne Williamson's new book The Law of Divine Compensation. … This wonderful book… will help you shift your perceptions around money, work, and wealth.
— Law of Attraction magazine

In The Law of Divine Compensation, the New York Times bestselling author Marianne Williamson provides a unique perspective on our financial condition,… revealing a path to abundance by way of a powerful spiritual principle called the Law of Divine Compensation.
— Edge Magazine

"Marianne conveys her principals in such a way that makes my brain simultaneously jolt to life with excitement and my soul sigh with deep, profound relief."
— Gaiam TV Blog