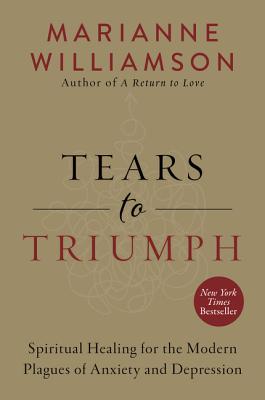 Tears to Triumph
Spiritual Healing for the Modern Plagues of Anxiety and Depression
Paperback

* Individual store prices may vary.
Other Editions of This Title:
Digital Audiobook (6/13/2016)
Hardcover (6/14/2016)
Paperback, Large Print (6/14/2016)
Description
The internationally recognized teacher, speaker, and New York Times bestselling author of A Return to Love argues that our desire to avoid pain is actually detrimental to our lives, disconnecting us from our deepest emotions and preventing true healing and spiritual transcendence.
Marianne Williamson is a bestselling author, world-renowned teacher, and one of the most important spiritual voices of our time. In Tears to Triumph, she argues that we—as a culture and as individuals—have learned to avoid facing pain. By doing so, we are neglecting the spiritual work of healing.
Instead of allowing ourselves to embrace our hurt, we numb it, medicate it, dismiss it, or otherwise divert our attention so that we never have to face it. In refusing to acknowledge our suffering, we actually prolong it and deny ourselves the opportunity for profound wisdom—ultimately limiting our personal growth and opportunity for enlightenment. Frozen by denial, we are left standing in the breech. Whole industries profit from this immobility, and while they have grown rich, we have become spiritually poorer.
As Marianne makes clear, true healing and transcendence can only come when we finally face our pain and wrestle with what it has to teach us. Written with warm compassion and profound wisdom, Tears to Triumph offers us a powerful way forward through the pain, to a deeper awareness of our feelings, our lives, and our true selves.
Praise For Tears to Triumph: Spiritual Healing for the Modern Plagues of Anxiety and Depression…
"A book that has been perfectly timed with what we are going through as a country and universe." — Good Day New York
"In Tears to Triumph, Williamson digs into the roots of depression and offers a bold way forward." — Spirituality & Health
"Every few years, Williamson steps forward with her finger on the pulse of an emerging trend. Rather than predict, however, she defines. Tears to Triumph is an exceptional example of her skill…an exceptionally timely and relevant treatise." — Retailing Insight
"Williamson offers a natural remedy for facing failure, disappointment, and sadness (i.e., the human condition): the application of love and forgiveness as medicine." — Lion's Roar
HarperOne, 9780062205452, 240pp.
Publication Date: June 13, 2017
About the Author
Marianne Williamson is an internationally acclaimed author, speaker, and activist. Six of her published books have been New York Times bestsellers. Her books include A Return to Love, A Year of Miracles, The Law of Divine Compensation, The Gift of Change, The Age of Miracles, Everyday Grace, A Woman's Worth, and Illuminata. She has been a popular guest on television programs such as Oprah, Good Morning America, and Charlie Rose.