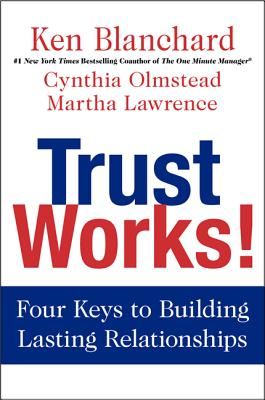 Trust Works!
Four Keys to Building Lasting Relationships
Hardcover

* Individual store prices may vary.
Other Editions of This Title:
Digital Audiobook (4/29/2013)
Description
Trust Works!: Four Keys to Building Lasting Relationships is an insightful guide designed to help people navigate one of the most complex issues that affects all areas of our lives: trust.

In today's polarized society, building trust—and sustaining it—has never been more important or seemingly elusive. Trust Works! provides a common language and essential skills that can replace dissension with peace and cooperation and help us all work together productively and in harmony.
In Trust Works! Ken Blanchard applies that fable to real-life situations to show anyone how to get along better with those around them. He outlines his ABCD trust model and uses it to address the factors that lead to discord, including low morale, miscommunication, poor response to problems and issues, and dysfunctional leadership.

Praise For Trust Works!: Four Keys to Building Lasting Relationships…
"Outstanding! In a world where people can't always be counted on, this book shows you how to recognize the trust busters-as well as boost your own trustworthy behavior." — DR. PHIL MCGRAW, #1 New York Times bestselling author of Life Code and host of the "Dr. Phil" show
"There's nothing more important than building trust-without it, you'll never achieve your goals. This profound little book can help you make big things happen." — Stedman Graham, chairman and CEO of S. Graham & Associates and author of Identity: Passport to Freedom
"To achieve your dreams, you first have to learn to trust yourself and then inspire others to trust you. In clear, simple terms, this book shows you how. Read it!" — Anthony Robbins, entrepreneur, peak performance strategist, and author of Awaken the Giant Within and Unlimited Power
"I am a raving fan of Trust Works!. The ABCD model is simple, easy to remember, and actionable." — Garry Ridge, CEO of WD-40 Company and coauthor of Helping People Win at Work
"Not only is Trust Works! fun to read, but it also provides invaluable tools for building greater trust-or repairing trust that's been broken. Required reading for individuals and organizations alike." — Ken Druck, PhD, author of The Real Rules of Life and The Secrets Men Keep-and the original executive coach
"Trust Works! addresses what is often a fuzzy concept-trust-in a clear and logical manner. Timely and engaging, this book is sorely needed." — Richard Whiteley, author of The Corporate Shaman and The Customer Driven Company
"I enjoyed every thought expressed in Trust Works! Ken, Cindy, and Martha have hit a home run in the game of life with this magnificent offering." — Colleen Barrett, coauthor of Lead with LUV and president emeritus of Southwest Airlines
"Building high-trust relationships is the foundation of effective leadership. With typical Blanchard brilliance, Trust Works! demystifies the complex concept of trust and identifies the core behaviors necessary to build and restore it." — Jim Irvine, manager of talent management and organizational learning at Nissan North America and coauthor of Your Resume Sucks!
"In life and particularly in management, trust is critical. Simple, clear, and focused, Trust Works! is full of practical ideas that can immediately be applied to boost morale and productivity. A must-read for every manager." — Lisa Doyle, vice president of learning and development, Lowe's Companies, Inc.
"Ken and his coauthors lead us on a skillful journey of understanding how, whom, and why we learn to trust. Trust Works! is an essential teaching for anyone seeking to deepen their best work in the good soil of sustainable, trustworthy, road-tested wisdom." — Rev. Wayne Muller, founder of the Institute of the Southwest and bestselling author of Sabbath and A Life of Being, Having, and Doing Enough
William Morrow, 9780062205988, 160pp.
Publication Date: April 30, 2013
About the Author
Ken Blanchard, PhD, is one of the most influential leadership experts in the world. He has co-authored 60 books, including Raving Fans and Gung Ho! (with Sheldon Bowles). His groundbreaking works have been translated into over 40 languages and their combined sales total more than 21 million copies. In 2005 he was inducted into Amazon's Hall of Fame as one of the top 25 bestselling authors of all time. The recipient of numerous leadership awards and honors, he is cofounder with his wife, Margie, of The Ken Blanchard Companies®, a leading international training and consulting firm.
Cynthia Olmstead founded TrustWorks Group in 1987 and served as its president until it was bought by The Blanchard Companies in 2010. A group development expert, she recognized that the core of many problems is the lack of trust.
Martha Lawrence is a former editor at Simon & Schuster and Harcourt. She is an executive editor at The Ken Blanchard Companies.
or
Not Currently Available for Direct Purchase