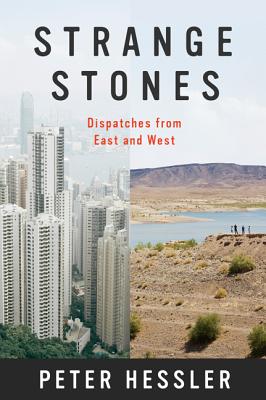 Strange Stones
Dispatches from East and West
Paperback

* Individual store prices may vary.
Description
Full of unforgettable figures and an unrelenting spirit of adventure, Strange Stones is a far-ranging, thought-provoking collection of Peter Hessler's best reportage—a dazzling display of the powerful storytelling, shrewd cultural insight, and warm sense of humor that are the trademarks of his work.

Over the last decade, as a staff writer for The New Yorker and the author of three books, Peter Hessler has lived in Asia and the United States, writing as both native and knowledgeable outsider in these two very different regions. This unusual perspective distinguishes Strange Stones, which showcases Hessler's unmatched range as a storyteller. "Wild Flavor" invites readers along on a taste test between two rat restaurants in South China. One story profiles Yao Ming, basketball star and China's most beloved export, another David Spindler, an obsessive and passionate historian of the Great Wall. In "Dr. Don," Hessler writes movingly about a small-town pharmacist and his relationship with the people he serves.
While Hessler's subjects and locations vary, subtle but deeply important thematic links bind these pieces—the strength of local traditions, the surprising overlap between apparently opposing cultures, and the powerful lessons drawn from individuals who straddle different worlds.
Praise For Strange Stones: Dispatches from East and West…
"Hessler's signature is an unobtrusive and humorous first-person narrator breezily guiding the reader through places at once exotic and ordinary, a sort of Tracy Kidder in Asia. . . . Hessler has an acute and far-ranging talent for drawing characters."
— The Wall Street Journal

"Affable, humane and perceptive pieces. . . . This isn't one of those take-your-medicine books about geopolitics and the world economy. Strange Stones also happens to be great fun to read, at once breezily written and deeply informative."
— The Minneapolis Star Tribune

"Read this book. . . . This is long-form journalism at its finest."
— Fareed Zakaria

"Revelatory. . . . Wonderful . . . . Continually showcases Hessler's gift for telling tales of cultural difference and mutual misunderstanding in a way that is both humorous and deeply empathetic. . . . Hessler is a deeply humane teller of true tales, a keen observer, a graceful stylist."
— The Atlantic
Harper Perennial, 9780062206237, 368pp.
Publication Date: May 7, 2013
About the Author
Peter Hessler is a staff writer at The New Yorker, where he served as the Beijing correspondent from 2000 to 2007, and is also a contributing writer for National Geographic. He is the author of River Town, which won the Kiriyama Prize; Oracle Bones, which was a finalist for the National Book Award; and, most recently, Country Driving. He won the 2008 National Magazine Award for excellence in reporting, and he was named a MacArthur Fellow in 2011. He lives in Cairo.