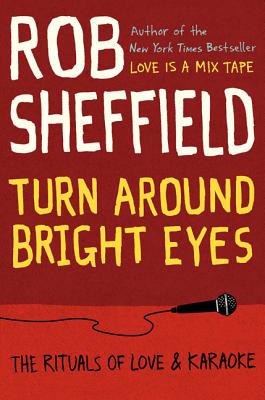 Turn Around Bright Eyes (Hardcover)
The Rituals of Love and Karaoke
It Books, 9780062207623, 288pp.
Publication Date: August 6, 2013
Other Editions of This Title:
Digital Audiobook (8/5/2013)
Paperback (5/20/2014)
* Individual store prices may vary.
Description
Once upon a time I was falling apart. Now I'm always falling in love.
Pick up the microphone.
When Rob Sheffield moved to New York City in the summer of 2001, he was a young widower trying to start a new life in a new town. Behind, in the past, was his life as a happily married rock critic, with a wife he adored, and a massive collection of mix tapes that captured their life together. And then, in a flash, all he had left were the tapes.
Beyoncé , Bowie, Bon Jovi, Benatar . . .
One night, some friends dragged him to a karaoke bar in the West Village. A night out was a rare occasion for Rob back then.
Turn around
Somehow, that night in a karaoke bar turned into many nights, in many karaoke bars. Karaoke became a way out, a way to escape the past, a way to be someone else if only for the span of a three-minute song. Discovering the sublime ridiculousness of karaoke, despite the fact that he couldn't carry a tune, he began to find his voice.
Turn around
And then the unexpected happened. A voice on the radio got Rob's attention. The voice came attached to a woman who was unlike anyone he'd ever met before. A woman who could name every constellation in the sky, and every Depeche Mode B side. A woman who could belt out a mean Bonnie Tyler.
Bright Eyes
Turn Around Bright Eyes is an emotional journey of hilarity and heartbreak with a karaoke soundtrack. It's a story about finding the courage to move on, clearing your throat, and letting it rip. It's a story about navi- gating your way through adult romance. And it's a story about how songs get tangled up in our deepest emotions, evoking memories of the past while inspiring hope for the future.
About the Author
Rob Sheffield is a columnist for Rolling Stone, where he has been writing about music, TV, and pop culture since 1997. He is the author of the national bestsellers Love Is a Mix Tape: Love and Loss, One Song at a Time and Talking to Girls About Duran Duran: One Young Man's Quest for True Love and a Cooler Haircut, as well as Turn Around Bright Eyes: A Karaoke Journey of Starting Over, Falling in Love, and Finding Your Voice and On Bowie.
Praise For Turn Around Bright Eyes: The Rituals of Love and Karaoke…
"Sheffield explores the healing properties of the much-mocked, beloved karaoke culture. He turns the ridiculousness of the aural horror show into something noble and meaningful."
— USA Today

"In Sheffield's hands, pop music is more than an object of cultural consumption—it becomes the language through which to navigate and negotiate his most intimate moments."
— The Atlantic

"[What's] remarkable about Sheffield's new book is how deep he gets writing about how karaoke—bellowing pop songs to the accompaniment of canned backing tracks in front of supportive friends and drunken strangers—lifted him out of his existential gloom.…He examines the healing power of communal singing."
— Los Angeles Times

"Sheffield is fundamentally a gifted essayist."
— Entertainment Weekly

"Sheffield comes across as an impressive storyteller, encyclopedic in his knowledge of both high and low culture and convincing in his presentation of loss and redemption through music."
— Time Out New York

"Sheffield muses on love, loss, life, Rod Stewart, female Rush fans and much more in an homage to the art and attitude of karaoke.…Eschewing cynicism, [he] writes with a seemingly effortless blend of evocative pathos and spot-on humor that moves and inspires. …Sheffield nails it."
— Kirkus Reviews (starred review)

"Part love story, part ode to music by a lifelong fan…Sheffield doesn't just know about songs, he feels them and what they do to him, and his fervent writing—part disciple, part critic-makes you feel the music, too. His insights into music's importance for life and love are refreshing."
— Booklist

"Rob Sheffield understands music's power to not only individuate ourselves, but to connect people to one another. His prose keeps such kind, sharp company. In Turn Around Bright Eyes he writes about what, and who, he loves without sentimentality. The world is a better place with Rob Sheffield."
— Julie Klausner, comedian, host of the comedy podcast How Was Your Week and author of I Don't Care About Your Band

"Why in God's name would anyone immerse themselves in the world of karaoke? Well, here's your answer—and it's a surprising trip out of some real darkness, set to a soundtrack of cheesy ballads, yelping rockers, and mangled standards. Turn Around Bright Eyes is an absolute treat."
— Patton Oswalt, comedian, actor, and New York Times bestselling author of Zombie Spaceship Wasteland

"Romantic and addictive, Turn Around Bright Eyes is the most passionate and energetic performance. It could just be the funniest book ever written about music."
— John Taylor, bassist of Duran Duran and New York Times bestselling author of In the Pleasure Groove

"Turn Around Bright Eyes is a touching homage to '99 Luftballoons' and other important chunks of our cultural heritage."
— Gary Shteyngart, bestselling author of Super Sad True Love Story and Absurdistan
Coverage from NPR
or
Not Currently Available for Direct Purchase