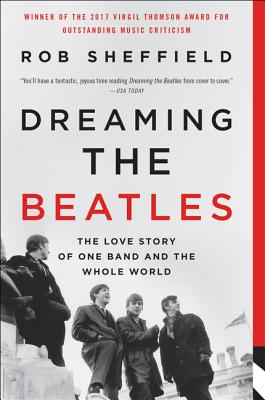 Dreaming the Beatles
The Love Story of One Band and the Whole World
Paperback

* Individual store prices may vary.
Other Editions of This Title:
Digital Audiobook (4/24/2017)
Hardcover (4/25/2017)
MP3 CD (4/27/2017)
Compact Disc (4/27/2017)
Compact Disc (4/27/2017)
Description
An NPR Best Book of the Year • Winner of the Virgil Thomson Award for Outstanding Music Criticism
"This is the best book about the Beatles ever written"  —Mashable
Rob Sheffield, the Rolling Stone columnist and bestselling author of Love Is a Mix Tape offers an entertaining, unconventional look at the most popular band in history, the Beatles, exploring what they mean today and why they still matter so intensely to a generation that has never known a world without them.
Dreaming the Beatles is not another biography of the Beatles, or a song-by-song analysis of the best of John and Paul. It isn't another exposé about how they broke up. It isn't a history of their gigs or their gear. It is a collection of essays telling the story of what this ubiquitous band means to a generation who grew up with the Beatles music on their parents' stereos and their faces on T-shirts. What do the Beatles mean today? Why are they more famous and beloved now than ever? And why do they still matter so much to us, nearly fifty years after they broke up?
As he did in his previous books, Love is a Mix Tape, Talking to Girls About Duran Duran, and Turn Around Bright Eyes, Sheffield focuses on the emotional connections we make to music. This time, he focuses on the biggest pop culture phenomenon of all time—The Beatles. In his singular voice, he explores what the Beatles mean today, to fans who have learned to love them on their own terms and not just for the sake of nostalgia.
Dreaming the Beatles tells the story of how four lads from Liverpool became the world's biggest pop group, then broke up—but then somehow just kept getting bigger. At this point, their music doesn't belong to the past—it belongs to right now. This book is a celebration of that music, showing why the Beatles remain the world's favorite thing—and how they invented the future we're all living in today.
Praise For Dreaming the Beatles: The Love Story of One Band and the Whole World…
"Filled with sharp criticism that challenges conventional wisdom. Once you know the history by heart, this is the place to understand what the Beatles mean now." — Pitchfork
"This is the best book about the Beatles ever written…passionate and eloquent…If aliens land tomorrow, and demand to know why we keep on pumping this particular brand of music into space, this is the first book you would hand them." — Mashable
"You'll have a fantastic, joyous time reading Dreaming the Beatles from cover to cover." — USA Today
"[B]efore I began writing this I paged through Ian MacDonald's canonical Revolution in the Head and Devin McKinney's renowned The Beatles in Dream and History...But neither has a chance of topping Rob Sheffield's Dreaming the Beatles." — Robert Christgau, Village Voice
"Dreaming the Beatles is the individual exploration of a universal pop experience—listening to the Beatles, thinking about the Beatles, reinventing the Beatles in your mind, listening to them again...explaining your own life through the only four people who will always belong to everyone."
— Chuck Klosterman, author of the New York Times bestseller But What If We're Wrong
"Usually hilarious, always surprising." — Griel Marcus, author of Mystery Train
"The essential joy of Dreaming the Beatles are these connections made between historical events, mythological band history, and the song itself—it's sparkling, insightful, occasionally humorous writing unclouded by irony or cynicism about a capital-G Great Band." — Spin
"Rob Sheffield's unconventional rock-band bio is must-read material." — Forth Worth Star Telegram
"As he's proven in, well, all of his books, Sheffield writes about fandom, about the condition of loving a thing, as well or better than anyone, which is no small thing for a critic as savvy as he is." — Austin American-Statesman
"For Sheffield, a chronicler of pop culture whose work blends thoughtful criticism and unabashed fandom, the heart of the Beatles story is about relationships." — Boston Globe
"Half a century after their apogee...is there anything left to say about the most chronicled rock band in history? It turns out there is. Rob Sheffield's new book Dreaming the Beatles looks at the Fab Four from a fresh point of view." — Los Angeles Review of Books
"[Sheffield] offers enough memory-sparking to take Boomers back a few decades and plenty of insider gossip to satisfy younger readers...enjoy Dreaming the Beatles,...You know you love the music, and you may have read other books about the Beatles, but in your life, you'll love this more." — Journal Sentinel
"wistful, elegiac...Dreaming the Beatles...[is] a strong and heartfelt appreciation of The Beatles...Sheffield has added an extended chord to this seemingly never-ending story of The Beatles that's lush and resonant with infinite varied possibilities. "  — PopMatters
"This is the definitive Beatles book, the only one that comes close to the rush of listening to Rubber Soul or Revolver for the first time...It's a 318-page-long 'yeah, yeah, yeeeeah.'" — Pitchfork
"One of the most original and insightful books ever written about the Fab Four. He's brilliant on everything from George Harrison's disastrous 1974 solo tour to the Bee Gees' Sgt. Pepper's movie." — Rolling Stone
"A brilliant, giddy book, teeming with life." — Cass R. Sunstein, New York Times bestselling author of The World According to Star Wars
 "One of the best books about the band ever written…What interests Sheffield is the countless ways the band is alive."
— Sean T. Collins, MTV.com
"Sheffield approaches the group with his trademark humor, intimate candor, encyclopedic knowledge of pop music, and unabashed enthusiasm for a subject that also endlessly fascinated John, Paul, George and Ringo: girls."
— Mary Elizabeth Williams, Salon
Dey Street Books, 9780062207661, 384pp.
Publication Date: June 19, 2018
About the Author
Rob Sheffield is a columnist for Rolling Stone, where he has been writing about music, TV, and pop culture since 1997. He is the author of the national bestsellers Love Is a Mix Tape: Love and Loss, One Song at a Time and Talking to Girls About Duran Duran: One Young Man's Quest for True Love and a Cooler Haircut, as well as Turn Around Bright Eyes: A Karaoke Journey of Starting Over, Falling in Love, and Finding Your Voice and On Bowie.