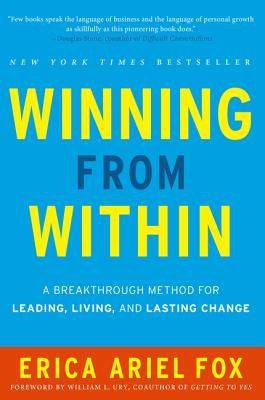 Winning from Within
A Breakthrough Method for Leading, Living, and Lasting Change
Hardcover

* Individual store prices may vary.
Other Editions of This Title:
Digital Audiobook (9/23/2013)
Description
Winning from Within by leadership and negotiation expert Erica Ariel Fox presents a contemporary approach for getting more of what you want, improving relationships, and enjoying life's deeper rewards.
 
With principles developed while teaching negotiation at Harvard Law School and coaching executives around the world, Fox provides a map for understanding your inner world and a method for sorting yourself out.
 
Fox uses insights from Western psychology and Eastern philosophy to resolve the gap between what people know they should say and what they actually do. She explains how to master your "inner negotiators," whether working with a difficult client, struggling with a stubborn spouse, or developing your highest leadership potential.
 
With a Foreword by William Ury, coauthor of the classic bestseller Getting to Yes, Winning from Within: A Breakthrough Method for Leading, Living, and Lasting Change is your guide to greatness.
Praise For Winning from Within: A Breakthrough Method for Leading, Living, and Lasting Change…
"Winning from Within is bound to change forevermore the way leaders are developed. Its ideas and inspiration will take the business world by storm." — Peter Guber, CEO, Mandalay Entertainment, and bestselling author of Tell To Win
"A remarkable contribution from a new voice. If you read one leadership book this year, pick Winning from Within." — Marshall Goldsmith, bestselling author of What Got You Here Won't Get You There
"Erica Ariel Fox is an innovator in integrating transformational work with practical approaches to negotiation and leadership. Her new method will make a difference at work and home alike." — Deepak Chopra, author of The Soul of Leadership
"Erica Ariel Fox has created an imaginative, innovative, and powerful toolbox for helping manage our inner world. Winning from Within maps a path to a better life." — Dan Goleman, bestselling author of Emotional Intelligence
"A practical, illuminating guide to living our values and bringing wisdom to difficult situations. A wonderful resource for anyone who seeks a richer, more satisfying life." — Sharon Salzburg, bestselling author of Real Happiness
"As a colleague, I've watched Erica develop groundbreaking work over many years at Harvard Law School. She is the right person at the right time to offer a new, more integrated, model of negotiation for people practicing leadership in business, in government and in non-profit organizations." — Ronald A. Heifetz, co-founder of the Center for Public Leadership at the John F. Kennedy School of Government, Harvard University; author of Leadership Without Easy Answers and Leadership on the Line
"Erica Ariel Fox knows how to transform her audience and really make them think, question their beliefs, and change for the better. She is a cutting edge thought leader and change agent." — Puja Sehgal Jaspal, Principal, Google Compensation Team, GOOGLE
"Winning from Within is an epiphany and inner guidebook in one. It reveals how our goals and dreams can be reached through knowing and acting from our best selves, but more importantly it teaches us how to actually do this, in work and life." — C. Geoffrey McDonough, MD, President & CEO SOBI
"Winning from Within offers a powerful and practical method for character development, a missing link in leadership development that is increasingly essential for new and seasoned executives alike. Fox's unerring, beautiful prose makes the journey toward a better self one that you won't want to miss. — Amy C. Edmondson, Novartis Professor of Leadership and Management, HARVARD BUSINESS SCHOOL, Author, Teaming: How organizations learn, innovate and compete in the knowledge economy
"Every so often a star is born, illuminating what we thought was commonplace and fundamentally rearranges the way we think. Erica Ariel Fox is such a star. She offers dazzling, deeply transformational insights, not merely into what we do, but into who we are. Read her. Your life could change." — Kenneth Cloke, author of Mediating Dangerously Founder of Mediators Beyond Borders
"After 25 years in the business, Winning From Within was simply the most impactful training I have ever experienced." — Brian Ratte, North America Sales Leader, Industry Solutions, IBM
"Spend time with Fox exploring the inner dynamics of negotiation and you'll discover a new way of seeing oneself as a leader and human being. Deep conversations, experiential learning, and self-directed practices all help 'interesting ideas' drop from the head into the heart where they transform into personal commitments." — Larry Dressler, Author, Standing in the Fire
"Many have discussed the characteristics of successful leaders; far fewer have illuminated how to be [emphasis] a more effective leader. Erica Ariel Fox provides invaluable advice here that is both insightful and pragmatic - clarifying the powerful ways in which the inner lives of leaders shape their external effectiveness." — Mike Anderson, Chief Innovation Officer and Head of Leadership Services, Spencer Stuart
"Winning from Within revolutionizes our state of leadership education for students and global leaders both in private and public sectors. It is exactly the guidebook we need as we navigate unchartered waters into the future." — Dr. Mariko Gakiya, Faculty Director, Global Leadership Program of The University of Tokyo
"Erica Ariel Fox has a wonderfully engaging style-clear, funny, touching. In this appealingly personal, professional, and practical book, Fox brings the world of negotiation to a whole new level, by including the missing dimension: the 'inner game' — Robert Kegan and Lisa Lahey, authors of Immunity to Change Faculty, Harvard University Graduate School of Education
"Erica has the magical ability to meet people exactly where they are at any given moment. You simply have to experience her and the unforgettable energy she brings to the room." — Jodi Hallstrom, US Department of Agriculture
"I thought I knew myself, but not at the depths I found here. Erica introduced me to myself at a deeper level than I even knew was possible." — Linda Goodman, Idaho Human Rights Commission
"I've worked with Erica and her team for years with both senior executives and line leaders. If you want to create a high performance culture, you don't want to miss Winning from Within." — Marko Satarain, Sr. Director, Head of Talent, Levi Strauss & Co.
It's all good shorthand for practical introspection and guidance toward making lasting improvements, not by focusing on behavior or personality type, but by integrating all the parts that make us who we are. — Publishers Weekly
"Erica is simply one of the best leadership teachers of our time. Her book will change your life. It changed mine." — Nate Boaz, Partner, McKinsey & Company
"Fox reports that the ability to "lead yourself" is today's new leadership requirement, and this timely book is a must-read for library patrons interested in all levels of management." — Booklist
Harper Business, 9780062213020, 384pp.
Publication Date: September 24, 2013
About the Author
Erica Ariel Fox teaches negotiation at Harvard Law School. She is a cofounder of the global leadership and change firm Mobius Executive Leadership and a senior advisor to McKinsey Leadership Development (MLD). A highly sought-after expert and speaker, she helps teams in trouble, inspires audiences, and supports businesses seeking transformational change. She also provides leadership training to public-sector organizations and through executive education courses. She earned her undergraduate degree from Princeton University and her law degree from Harvard Law School. She lives with her husband and stepson near Boston and outside Amsterdam.
or
Not Currently Available for Direct Purchase