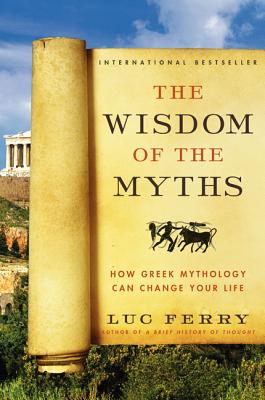 The Wisdom of the Myths (Paperback)
How Greek Mythology Can Change Your Life (Learning to Live)
Harper Perennial, 9780062215451, 416pp.
Publication Date: January 7, 2014
* Individual store prices may vary.
Description
A fascinating journey through Greek mythology that explains the myths' timeless lessons and meaning
Heroes, gods, and mortals. The Greek myths are the founding narratives of Western civilization: to understand them is to know the origins of philosophy, literature, art, science, law, and more. Indeed, as Luc Ferry shows in this masterful book, they remain a great store of wisdom, as relevant to our lives today as ever before. No mere legends or clichés ("Herculean task," "Pandora's box," "Achilles heel," etc.), these classic stories offer profound and manifold lessons, providing the first sustained attempt to answer fundamental human questions concerning "the good life," the burden of mortality, and how to find one's place in the world. Vividly retelling the great tales of mythology and illuminating fresh new ways of understanding them, The Wisdom of the Myths will enlighten readers of all ages.
About the Author
Luc Ferry is a philosopher and the author of the national bestseller A Brief History of Thought. From 2002 to 2004 he served as France's minister of national education. He has been awarded the Prix Médicis, Prix Jean-Jacques-Rousseau, and Prix Aujourd'hui, in addition to being an officer of the French Legion of Honor and a knight of the Order of Arts and Letters. He lives in Paris.
Praise For The Wisdom of the Myths: How Greek Mythology Can Change Your Life (Learning to Live)…
"In this marvelously wise and expansive book, Luc Ferry argues for the primacy of Greek myth. ... Ferry writes with warmth, wit, and energy; one could call his prose conversational, but it's rare to have a conversation quite this wonderful."
— Boston Globe

"With Luc Ferry as a guide, our passage through the storied landscape of Greek mythology becomes a captivating lesson in philosophy."
— Le Monde (France)

"Ferry's charm as a teacher bursts through on every page."
— Wall Street Journal

"A marvelously wise and expansive book. ... Ferry writes with warmth, wit, and energy; one could call his prose conversational, but it's rare to have a conversation quite this wonderful."
— Boston Globe

"Ferry draws out deeper meanings of myths about how the world works and of the place of mortals in it... The Wisdom of the Myths is part of a grand enterprise to revive practical wisdom and secular humanism."
— The Guardian