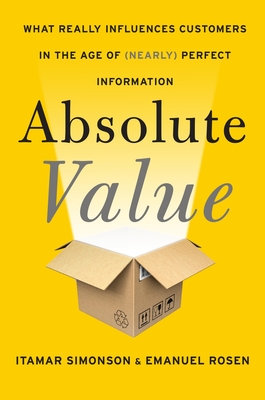 Absolute Value (Hardcover)
What Really Influences Customers in the Age of (Nearly) Perfect Information
Harper Business, 9780062215673, 256pp.
Publication Date: February 4, 2014
* Individual store prices may vary.
Description
Going against conventional marketing wisdom, Absolute Value reveals what really influences customers today and offers a new framework—the Influence Mix, a totally new way of thinking about consumer decision making and marketing, and about developing more effective business strategies.
How people buy things has changed profoundly—yet the fundamental thinking about consumer decision-making and marketing has not. Most marketers still believe that they can shape consumers' perception and drive their behavior. In this provocative book, Stanford professor Itamar Simonson and bestselling author Emanuel Rosen show why current mantras are losing their relevance. When consumers base their decisions on reviews from other users, easily accessed expert opinions, price comparison apps, and other emerging technologies, everything changes.
Absolute Value answers the pressing questions of how to influence customers in this new age. Simonson and Rosen point out the old-school marketing concepts that need to change and explain how a company should design its communication strategy, market research program, and segmentation strategy in the new environment. Filled with deep analysis, case studies, and cutting-edge research, this forward-looking book provides a totally new way of thinking about marketing.
About the Author
Itamar Simonson is the Sebastian S. Kresge Professor of Marketing at the Graduate School of Business, Stanford University. His award-winning work has been featured in the New York Times, the Washington Post, and many other outlets worldwide. He has been recognized as one of the world's leading authorities on consumer decision making.
Emanuel Rosen is the author of the national bestseller The Anatomy of Buzz. He was previously vice president of marketing at Niles Software, where he launched the company's flagship product, EndNote. Rosen started his career in marketing as an award-winning copywriter. His books are available in twelve languages.
Praise For Absolute Value: What Really Influences Customers in the Age of (Nearly) Perfect Information…
"Absolute Value brilliantly describes a world which threatens to disrupt conventional ideas about branding and marketing. Companies that seek only to persuade will be replaced by those that truly seek to serve the real needs of the customer."
— Tim Brown, CEO of IDEO

"Pay attention to this book. It offers important insights into changing consumer behavior and presents new rules for success in the marketplace of the future."
— Ravi Dhar, Director of the Center for Customer Insights at the Yale School of Management; George Rogers Clark Professor of Management and Marketing

"Marketing is changing more rapidly than ever. In Absolute Value, Simonson and Rosen provide a uniquely comprehensive and insightful look into the new consumer world. It provides an invaluable roadmap as to where marketing is going, challenging conventions and many so-called best practices in the process."
— Kevin Lane Keller, Executive Director of the Marketing Science Institute. E.B. Osborn Professor of Marketing, Tuck School of Business

"Simonson and Rosen marshal fact and provocative argument to explain why the radical transparency of the internet undermines touchstones of traditional marketing as basic as segmentation, positioning, and even brand. Every marketer is going to have to read this book."
— Chip Heath, co-author of Made to Stick, Switch and Decisive, Professor of Organizational Behavior, Stanford Graduate School of Business

"A smart, incisive and compelling must-read for marketers who want to understand how technology is making shoppers more smart and savvy."
— Forbes.com