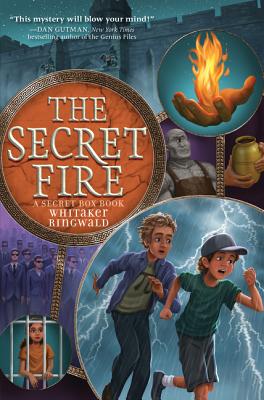 The Secret Fire (Secret Box #3)
Hardcover

* Individual store prices may vary.
Description
The third and final book in the critically acclaimed Secret Box trilogy, a series pitch-perfect for fans of humorous mystery capers like Escape from Mr. Lemoncello's Library and the Mysterious Benedict Society.
Who knew that insisting on opening a strange birthday present would lead to being kidnapped by an evil Greek god determined to conquer the world? Jax Malone certainly didn't. But now she's trapped in the back of a limo bound for Epimetheus's secret lair. He wants to control the three ancient urns that used to belong to Pandora's daughter. Magical urns that can suck hope, faith, and love out of the world.
Now Jax, Ethan, and Tyler's only chance to fight Epimetheus's formidable power might be to find a secret weapon—and to realize that their family ties are stronger than any magic.
Praise For The Secret Fire (Secret Box #3)…
"Rich in adventure and Greek mythology, and with an ending sentiment that is thoroughly wonderful, this tale is a satisfying conclusion to the series." — Kirkus Reviews
"With video-game-like action and a surprising secret weapon, this finale satisfies." — Booklist Online
PRAISE FOR THE SECRET BOX SERIES: "Ringwald repeats her successful narrative. Twists abound, and the ending will leave readers demanding the third installment immediately. Suspense, humor and sparkling narrative voices combine to deliver an engaging adventure." — Kirkus Reviews on The Secret Cipher
"Combining video gaming, modern technology, and the current interest in Greek mythology with the premise that these young people must save the world, this series has multiple attractions. Readers will wait eagerly for the third volume to see what the three do with the Urn of Faith." — Booklist on The Secret Cipher
"This mystery will blow your mind!" — Dan Gutman, New York Times bestselling author of the Genius Files series on The Secret Box
"Never mind the mystery, suspense, and humor—what I loved most about The Secret Box was getting into the heads of its two unique and delightfully quirky narrators." — Christopher Healy, author of The Hero's Guide to Saving Your Kingdom on The Secret Box
"Fresh voices make this story a winner. Readers will relish this sparkling adventure, which offers plenty of action, humor, age-appropriate danger and mental calisthenics." — Kirkus Reviews on The Secret Box
"This is a great read for reluctant readers or for anyone who loves adventure, mystery, or a touch of magic." — School Library Journal on The Secret Box
"Mixing Greek mythology and mystery with gamer lingo and poignant coming-of-age moments, Ringwald delivers a smart balance of comedy, endearing characters, and high-stakes escapades." — Publishers Weekly on The Secret Box
"The first-person narrative alternates among the protagonists: frizzy-haired Jax, the impulsive leader; introverted Ethan, always her sidekick; and his obnoxious video game-making older brother, Tyler. The action is fast-paced and the suspense is real." — Booklist on The Secret Box
Katherine Tegen Books, 9780062216205, 208pp.
Publication Date: June 21, 2016
About the Author
Before becoming an author, Whitaker Ringwald was certified as World's Greatest Snowball Maker and developed a nonstick peanut butter formula in conjunction with lauded Ig Nobel scientists. Whitaker spends six months of every year in a deep sea submersible trying to film live footage of giant squids. But giant squids are hard to come by, so that's where Whitaker gets a lot of writing done.