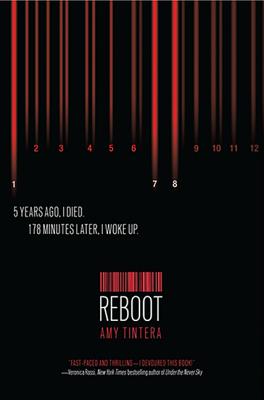 Reboot (Hardcover)
HarperTeen, 9780062217073, 384pp.
Publication Date: May 7, 2013
* Individual store prices may vary.
Description
In this fast-paced dystopian thrill ride, perfect for fans of The Hunger Games, Legend, and Divergent, a seventeen-year-old girl returns from death as a Reboot and is trained as an elite crime-fighting soldier . . . until she is given an order she refuses to obey.
Wren Connolly died five years ago, only to Reboot after 178 minutes. Now she is one of the deadliest Reboots around . . . unlike her newest trainee, Callum 22, who is practically still human. As Wren tries to teach Callum how to be a soldier, his hopeful smile works its way past her defenses. Unfortunately, Callum's big heart also makes him a liability, and Wren is ordered to eliminate him. To save Callum, Wren will have to risk it all.
Wren's captivating voice and unlikely romance with Callum will keep readers glued to the page in Amy Tintera's high-stakes alternate reality.
Praise For Reboot…
"Fast paced and thrilling…I devoured this book!"

"I don't know what left me more breathless—the breakneck pace or the heart—stopping romance! I loved it!"

"A bone–breaking heroine fights for her life, her love, and what remains of her humanity in this fresh take on a world gone wrong."

"Riveting, fast–paced, and full of heart—I simply couldn't put it down."

"Compulsively readable…Superb concepts and plotting will hook readers from the start."

"A fascinating premise, delivered in gory and glorious cinematic detail—and with a healthy dose of romance…The quick pace, familiar yet altered setting, and strong humanitarian message will draw Hunger Games fans."

"A riveting premise, a romance with substance, and the urgent narrative voice lend [REBOOT] a burst of fresh energy."

"The combination of wicked chase scenes, a sweet romance, and a dystopian world make this a welcome recommendation to readers awaiting the final installment to Roth's DIVERGENT (BCCB 5/11) or the next Hunger Games movie.