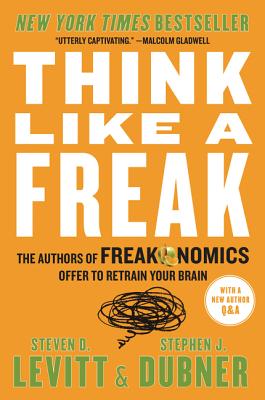 Think Like a Freak (Paperback)
The Authors of Freakonomics Offer to Retrain Your Brain
William Morrow Paperbacks, 9780062218346, 304pp.
Publication Date: July 7, 2015
Other Editions of This Title:
Digital Audiobook (5/11/2014)
Digital Audiobook (5/11/2014)
Hardcover (5/12/2014)
Paperback, Large Print (6/3/2014)
Paperback, Chinese (8/1/2014)
Paperback, Japanese (2/1/2015)
* Individual store prices may vary.
Description
Now in Paperback—the New York Times bestseller—and follow up to the revolutionary bestsellers Freakonomics and SuperFreakonomics—with a new author Q&A.
With their trademark blend of captivating storytelling and unconventional analysis, Steven D. Levitt and Stephen J. Dubner take us inside their thought process and teach us all how to think a bit more productively, more creatively, more rationally. In Think Like A Freak, they offer a blueprint for an entirely new way to solve problems, whether your interest lies in minor lifehacks or major global reforms. The topics range from business to philanthropy to sports to politics, all with the goal of retraining your brain. Along the way, you'll learn the secrets of a Japanese hot-dog-eating champion, the reason an Australian doctor swallowed a batch of dangerous bacteria, and why Nigerian e-mail scammers make a point of saying they're from Nigeria.
Levitt and Dubner plainly see the world like no one else. Now you can too. Never before have such iconoclastic thinkers been so revealing—and so much fun to read.
About the Author
Steven D. Levitt, a professor of economics at the University of Chicago, was awarded the John Bates Clark Medal, given to the most influential American economist under forty. He is also a founder of The Greatest Good, which applies Freakonomics-style thinking to business and philanthropy.
Stephen J. Dubner, an award-winning journalist and radio and TV personality, has worked for the New York Times and published three non-Freakonomics books. He is the host of Freakonomics Radio and Tell Me Something I Don't Know.
Stephen J. Dubner is an award-winning author, journalist, and radio and TV personality. He quit his first career—as an almost rock star—to become a writer. He has since taught English at Columbia, worked for The New York Times, and published three non-Freakonomics books.
Praise For Think Like a Freak: The Authors of Freakonomics Offer to Retrain Your Brain…
"Utterly captivating."
— Malcolm Gladwell, New York Times bestselling author of Blink, The Tipping Point, and David and Goliath

"Over nine entertaining chapters [Levitt and Dubner] demonstrate how not to fall into hackneyed approaches to solving problems and concretely illustrate how to reframe questions."
— New York Daily News

"Compelling and fun."
— New York Post

"This book will change your life."
— Daily Express (London)

"Good ideas... expressed with panache."
— Financial Times

"An interesting and thought-provoking read."
— The Horn

"Their most revolutionary book yet. With their trademark blend of captivating storytelling and unconventional analysis, they take us inside their thought process and teach us all to think a bit more productively, more creatively, more rationally --- to think, that is, like a Freak."
— Bookreporter.com