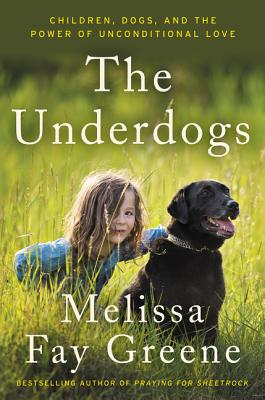 The Underdogs
Children, Dogs, and the Power of Unconditional Love
Hardcover

* Individual store prices may vary.
Other Editions of This Title:
Digital Audiobook (5/16/2016)
Paperback (2/28/2017)
Paperback, Large Print (5/17/2016)
MP3 CD (5/17/2016)
Compact Disc (5/17/2016)
Compact Disc (5/17/2016)
Description
From two-time National Book Award nominee Melissa Fay Greene comes a profound and surprising account of dogs on the front lines of rescuing both children and adults from the trenches of grief, emotional, physical, and cognitive disability, and post-traumatic stress disorder.
The Underdogs tells the story of Karen Shirk, felled at age twenty-four by a neuromuscular disease and facing life as a ventilator-dependent, immobile patient, who was turned down by every service dog agency in the country because she was "too disabled." Her nurse encouraged her to tone down the suicidal thoughts, find a puppy, and raise her own service dog. Karen did this, and Ben, a German shepherd, dragged her back into life. "How many people are stranded like I was," she wondered, "who would lead productive lives if only they had a dog?"
A thousand state-of-the-art dogs later, Karen Shirk's service dog academy, 4 Paws for Ability, is restoring broken children and their families to life. Long shunned by scientists as a manmade, synthetic species, and oft- referred to as "Man's Best Friend" almost patronizingly, dogs are finally paid respectful attention by a new generation of neuroscientists and animal behaviorists. Melissa Fay Greene weaves the latest scientific discoveries about our co-evolution with dogs with Karen's story and a few exquisitely rendered stories of suffering children and their heartbroken families.
Written with characteristic insight, humanity, humor, and irrepressible joy, what could have been merely touching is a penetrating, compassionate exploration of larger questions: about our attachment to dogs, what constitutes a productive life, and what can be accomplished with unconditional love.
Praise For The Underdogs: Children, Dogs, and the Power of Unconditional Love…
"Greene has a remarkable way of taking a complex topic, dissecting it down to its basic components and holding up layers to the light where it's seen anew. She applies that skill to the world of service dogs in her new book THE UNDERDOGS."
— Atlanta Journal-Constitution

"The PRAYING FOR SHEETROCK author deftly relates the stirring stories of disabled children and the heroic dogs who serve them, illuminating the intricate inner lives of our canine friends."
— O, the Oprah Magazine

"Brimming with the sweet, soulful journeys of courageous children and the dogs who become more than their best friends...beautifully written, scientifically rigorous, and filled with heartbreak and joy. It will make you think and feel differently about the kindness, compassion, and love between us and our dogs."
— Brian Hare and Vanessa Woods, THE GENIUS OF DOGS

"At last a real writer turns to children, love, and dogs, surely the three most important topics in life. Greene understands the extraordinary and still mysterious bond between dogs and children. THE UNDERDOGS is written with wit, with charm, and, above all, with genuine warmth. It is a miracle, truly."
— Dr. Jeffrey Moussaieff Masson, DOGS NEVER LIE ABOUT LOVE

"Melissa Fay Greene lends her trademark empathetic voice to this engrossing inside look at the work of 4 Paws for Ability, a service-dog academy...Greene, a master at telling the most human of stories, will still leave readers smiling. And dog lovers will adore this book."
— Booklist

"Greene gives us a selection of deftly reported and illuminatingly researched stories that go much deeper than sentimental click bait...These are riveting...not just because Greene, a master of narrative, picked good ones, but because she explains just how these relationships work at both ends of the leash."
— Washington Post

"Heartwarming stories of assistance dogs for kids with disabilities are woven amidst thoughtful discussions of how the human understanding of dogs has evolved over the years."
— Good Housekeeping

"Dogs are pretty much the best living beings on the planet. For more proof, look no further than The UNDERDOGS...Melissa Fay Greene's latest elegantly rendered and undeniably moving effort."
— Cincinnati City Beat
Ecco, 9780062218513, 352pp.
Publication Date: May 17, 2016
About the Author
Melissa Fay Greene is the author of Praying for Sheetrock; The Temple Bombing; Last Man Out; There Is No Me Without You: One Woman's Odyssey to Rescue her Country's Children; and No Biking in the House Without A Helmet. Her honors include two National Book Award nominations, a National Book Critics Circle Award nomination, the Robert F. Kennedy Book Award, the Chicago Tribune Heartland Prize, the Southern Book Critics Circle Award, the ACLU National Civil Liberties Award, the Hadassah Myrtle Wreath Award, the Salon Book Award, Elle Magazine's Readers' Prize, the Georgia Author Award, and a Dog Writers of America Award. She is a current Guggenheim Fellow.
or
Not Currently Available for Direct Purchase