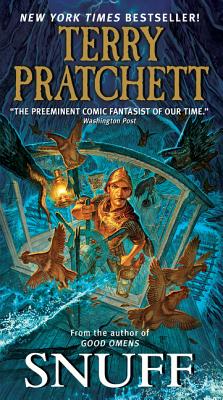 Snuff
A Novel of Discworld
Mass Market

* Individual store prices may vary.
Other Editions of This Title:
Digital Audiobook (10/10/2011)
Compact Disc (10/11/2011)
Hardcover (10/11/2011)
Description
At long last, Lady Sybil has lured her husband, Sam Vimes, on a well-deserved holiday away from the crime and grime of Ankh-Morpork. But for the commander of the City Watch, a vacation in the country is anything but relaxing. The balls, the teas, the muck—not to mention all that fresh air and birdsong—are more than a bit taxing on a cynical city-born and -bred copper.
Yet a policeman will find a crime anywhere if he decides to look hard enough, and it's not long before a body is discovered, and Sam—out of his jurisdiction, out of his element, and out of bacon sandwiches (thanks to his well-meaning wife)—must rely on his instincts, guile, and street smarts to see justice done. As he sets off on the chase, though, he must remember to watch where he steps. . . . This is the countryside, after all, and the streets most definitely are not paved with gold.
Praise For Snuff: A Novel of Discworld…
"In short, this is as busy and as daft as any other Discworld yarn, which means it is the quintessence of daft. Nobody writes fantasy funnier than Pratchett."
— Booklist

"This account of Unseen University's entry into the world of soccer (or, as they occasionally call it, "foot-the-ball") pushes past the usual conventions of satire to offer equal parts absurdist philosophy and heartwarming romance....A witty addition to the long-running fantasy series"
— Kirkus Reviews

"A triumphant effort."
— The Independent on Sunday

"Like Pratchett, [narrator Stephen Briggs] loves the comic rhythm, sound, and very taste of words-just for their own sake. So order up a tuna-spaghetti-jam sandwich (with sprinkles) and be prepared for a wonderful time."
— AudioFile Magazine

"Thirty-seven books in and ... Discworld is still going strong...and doing so with undimmed, triumphant exuberance. "
— The Guardian

"…[SNUFF is a] lively outing, complete with sly shout-outs to Jane Austen and gritty police procedurals."
— Publishers Weekly (starred review)

"The humor is sharp and the characters are charming, and the plight of the goblins creates moments of genuine pathos that are the highlight of the book."
— Tor.com

"Brilliantly complex."
— The Straits Times

"In the history of comic fantasy, Mr. Pratchett has no equals for invention or for range. "
— Wall Street Journal

"Series followers will delight in this latest entry. . . . Pratchett's fun, irreverent-seeming story line masks a larger discussion of social inequalities and the courage it takes to stand up for the voiceless."
— Library Journal

"Funny, of course, but with plenty of hard edges; and, along with the excellent lessons in practical police work, genuine sympathy for the ordinary copper's lot. A treat no fan of Discworld—and there are boatloads of them—will want to miss."
— Kirkus Reviews
Harper, 9780062218865, 480pp.
Publication Date: December 26, 2012
About the Author
Sir Terry Pratchett was the internationally bestselling author of more than thirty books, including his phenomenally successful Discworld series. His young adult novel, The Amazing Maurice and His Educated Rodents, won the Carnegie Medal, and Where's My Cow?, his Discworld book for "readers of all ages," was a New York Times bestseller. His novels have sold more than seventy five million (give or take a few million) copies worldwide. Named an Officer of the British Empire "for services to literature," Pratchett lived in England. He died in 2015 at the age of sixty-six.
or
Not Currently Available for Direct Purchase