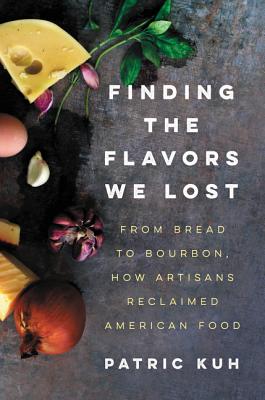 Finding the Flavors We Lost
From Bread to Bourbon, How Artisans Reclaimed American Food
Hardcover

* Individual store prices may vary.
Other Editions of This Title:
Paperback (5/2/2017)
Description
The multiple-James Beard Award—winning restaurant critic for Los Angeles Magazine delivers an arresting exploration of our cultural demand for "artisanal" foods in a world dominated by corporate agribusiness.
We hear the word "artisanal" all the time—attached to cheese, chocolate, coffee, even fast-food chain sandwiches—but what does it actually mean? We take "farm to table" and "handcrafted food" for granted now but how did we get here? In Finding the Flavors We Lost, acclaimed food writer Patric Kuh profiles major figures in the so-called "artisanal" food movement who brought exceptional taste back to food and inspired chefs and restaurateurs to redefine and rethink the way we eat.
Kuh begins by narrating the entertaining stories of countercultural "radicals" who taught themselves the forgotten crafts of bread, cheese, and beer-making in reaction to the ever-present marketing of bland, mass-produced food, and how these people became the inspiration for today's crop of young chefs and artisans. Kuh examines how a rediscovery of the value of craft and individual effort has fueled today's popularity and appreciation for artisanal food and the transformations this has effected on both the restaurant menu and the dinner table. Throughout the book, he raises a host of critical questions. How big of an operation is too big for a food company to still call themselves "artisanal"? Does the high cost of handcrafted goods unintentionally make them unaffordable for many Americans? Does technological progress have to quash flavor?
Eye-opening, informative, and entertaining, Finding the Flavors We Lost is a fresh look into the culture of artisan food as we know it today—and what its future may be.
Praise For Finding the Flavors We Lost: From Bread to Bourbon, How Artisans Reclaimed American Food…
"Patric Kuh brilliantly explores our journey to recapture the fresh flavors that we forgot. ...Finding the Flavors We Lost is a fascinating history of how good food (and drink) reclaimed their place at the American table."
— David Lebovitz, author of My Paris Table

"Kuh artfully tells a food tale... As a chef, I am inspired by Kuh's desire to give convenience and mass production a run for the money with a tasty vision for the American table. This book made me hungry!"
— Alex Guarnaschelli, executive chef at Butter and author of Old-School Comfort Food: The Way I Learned to Cook

"A food writer considers what artisanship really means... A lively look at food production [and] a thoughtful, informative journey into the transforming--and transformative--world of food."
— Kirkus Reviews

"Kuh gives insight into the passions of some creative artisans hoping to broaden and deepen Americans' food passions."
— Booklist

"[Kuh] has written something that reads less like the heavily reported homage to these artisans it is than like a short-story collection. Which is high praise, really... a fun way to tour and detour through an intricate narrative."
— Los Angeles Times

"[Kuh] offers informative, well-crafted appreciations of sincere, imaginative, sometimes highly influential people engaged in various aspects of food and drink production all over the country."
— Wall Street Journal

"He's literate and readable and has deep subject knowledge—the polar opposite of the average Yelper."
— Wall Street Journal

"Kuh's exuberant prose and rapt observation makes for delectable food porn."
— Publishers Weekly
Ecco, 9780062219541, 288pp.
Publication Date: June 21, 2016
About the Author
Patric Kuh is the author of The Last Days of Haute Cuisine: The Coming of Age of American Restaurants, which won the 2002 James Beard Award for writing on food. He is the restaurant critic for Los Angeles Magazine, and he lives in Los Angeles.
or
Not Currently Available for Direct Purchase