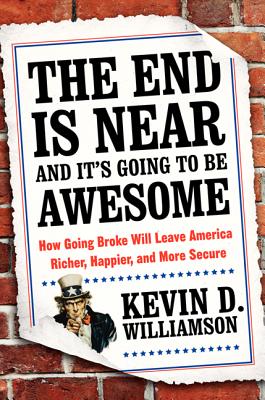 The End Is Near and It's Going to Be Awesome: How Going Broke Will Leave America Richer, Happier, and More Secure (Hardcover)
How Going Broke Will Leave America Richer, Happier, and More Secure
Broadside Books, 9780062220684, 229pp.
Publication Date: May 7, 2013
Description
In The End Is Near and It's Going to Be Awesome, Kevin Williamson, a National Review Online contributor, makes the bold argument that the United States government is disintegrating--and that it is a good thing
Williamson offers a radical re-envisioning of government, a powerful analysis of why it doesn't work, and an exploration of the innovative solutions to various social problems that are spontaneously emerging as a result of the failure of politics and government.
Critical and compelling, The End Is Near and It's Going to Be Awesome: How Going Broke Will Leave America Richer, Happier, and More Secure lays out a thoughtful plan for a new system, one based on success stories from around the country, from those who home-school their children to others who have successfully created their own currency.
Advertisement