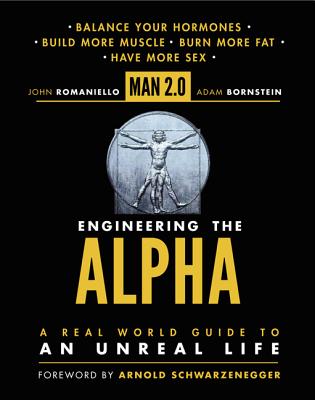 Man 2.0 Engineering the Alpha (Hardcover)
A Real World Guide to an Unreal Life: Build More Muscle. Burn More Fat. Have More Sex
HarperOne, 9780062220875, 288pp.
Publication Date: April 16, 2013
Other Editions of This Title:
Digital Audiobook (4/15/2013)
Paperback (4/8/2014)
* Individual store prices may vary.
Description
Every man has the potential for a great body, insane sex, and an unreal life. (Seriously)
Want to lose body fat? That's easy—you can drop 20 pounds in 6 weeks.
Want bigger muscles? Done. A 50-pound increase to your bench press, coming right up.
Want to be smarter? Not a problem—the strategies in this book have been proven to increase brain function.
Want an awesome sex life? Yeah, there's a fix for that, too—increased libido and improved performance are just weeks away.
You were born to achieve greatness, to be a man. But somewhere along the way you started to live an ordinary life. Fitness experts John Romaniello and Adam Bornstein developed a system that targets hormone optimization; their approach is specifically designed to transform you into the Alpha you were always meant to be. Strong. Confident. Powerful.
Based on cutting-edge, scientifically validated methods known only to the fitness elite, Man 2.0 provides a step-by-step road map to regaining your health, looking your best, supercharging your sex life—even reversing the aging process. The systems in this book have changed the lives of countless men who've worked with Romaniello and Bornstein.
In this book, you will discover:
Answers to all the questions you have about training and nutrition—and even ones you haven't thought of yet.
An easy-to-understand plan designed to work with your body, not against it, to burn fat, and build dense, rock-hard muscle.
A comprehensive nutrition program, fully customized for Alphas, complete with meal plans.
About the Author
John Romaniello, one of the most highly regarded experts in the fitness industry, has written for publications from Men's Health to Fast Company and been featured on programs such as Good Morning America.
Adam Bornstein is an award-winning fitness and nutrition writer. Named "one of the most influential people in Health," Bornstein was previously the fitness editor for Men's Health magazine.
Praise For Man 2.0 Engineering the Alpha: A Real World Guide to an Unreal Life: Build More Muscle. Burn More Fat. Have More Sex…
"Most fitness books suck. This one does not."
— Tucker Max, #1 NY Times bestselling author

"Engineering the Alpha is THE book for busy people who want to make a change. John Romaniello is my own personal trainer, and I can tell you from experience, he can get you in the best damn shape of your life. PERIOD."
— Gary Vaynerchuk, NY Times bestselling author of The Thank You Economy

"When it comes to modern fitness authority...all roads lead to Adam Bornstein"
— Joe Manganiello, actor, HBO's True Blood