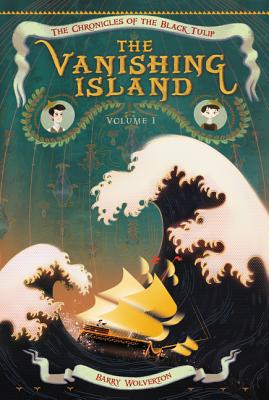 The Vanishing Island (Chronicles of the Black Tulip #1) (Paperback)
Walden Pond Press, 9780062221919, 368pp.
Publication Date: September 6, 2016
* Individual store prices may vary.
Description
An engrossing fantasy, a high-seas adventure, an alternate history epic—this is the richly imagined and gorgeously realized new book from acclaimed author Barry Wolverton, perfect for fans of The Glass Sentence and the Books of Beginning series.
It's 1599, the Age of Discovery in Europe. But for Bren Owen, growing up in the small town of Map on the coast of Britannia has meant anything but adventure. Enticed by the tales sailors have brought through Map's port, and inspired by the arcane maps his father creates as a cartographer for the cruel and charismatic map mogul named Rand McNally, Bren is convinced that fame and fortune await him elsewhere.
That's when Bren meets a dying sailor, who gives him a strange gift that hides a hidden message. Cracking the code could lead Bren to a fabled lost treasure that could change his life forever, and that of his widowed father. Before long, Bren is in greater danger than he ever imagined and will need the help of an unusual friend named Mouse to survive.
About the Author
Barry Wolverton is the author of Neversink. He has more than fifteen years' experience creating books, documentary television scripts, and website content for international networks and publishers, including National Geographic, Scholastic.com, the Library of Congress, and the Discovery Networks. He lives in Memphis, Tennessee.
Praise For The Vanishing Island (Chronicles of the Black Tulip #1)…
"A gripping high-seas adventure packed with action, magic, and folklore spanning East and West. Fast-paced and entertaining, this fine trilogy opener will keep both fantasy and historical-fiction buffs turning the pages."
— Kirkus Reviews

"This engaging historical narrative will draw readers in who love stories of adventure and exploration with a strong dose of fantasy."
— School Library Journal

"Wolverton's story speeds along suspensefully through a history intriguingly different from our own."
— Publishers Weekly

"A young boy goes off on a sea-faring adventure, but he doesn't know what he's in for. With bone-chilling scenes and heart-stopping action, this is a series you don't want to miss."
— Brightly