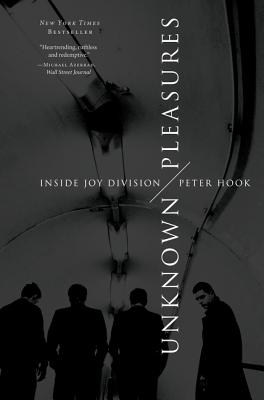 Unknown Pleasures
Inside Joy Division
Paperback

* Individual store prices may vary.
Other Editions of This Title:
Digital Audiobook (1/28/2013)
Paperback (12/1/2012)
Hardcover (9/1/2012)
Hardcover (1/29/2013)
Description
In Unknown Pleasures: Inside Joy Division, Peter Hook, bassist for the legendary, groundbreaking band Joy Division, takes readers backstage with the group that helped define the sound of a generation and influenced artists such as U2, Radiohead, and the Red Hot Chili Peppers.
Unlike other books about Joy Division, Factory Records, or lead singer Ian Curtis—who took his own life just before the band's first U.S. Tour—Unknown Pleasures tells Joy Division's story from the unique perspective of one of the three surviving band members.
Told with surprising humor and vivid detail, Unknown Pleasures is the book Joy Division fans have been waiting for.
Praise For Unknown Pleasures: Inside Joy Division…
An NPR Best Book of 2013
— NPR

A SPIN Best Music Book of 2013
— Spin

The most colorful and intimate account of Joy Division ever written . . . Hook evokes the spirit of the age with a bluff authenticity that no outsider could hope to emulate…explaining the creation of his band's remarkable music with all the passion and insight it deserves.
— Keith Cameron, MOJO

"A bittersweet, profanity-filled recollection of their brief existence . . . recalled with Hook's winning Manc gallows humor . . . If you like Joy Division you really have to read it."
— Ian Harrison, Q Magazine

"An immense account of Joy Division's rise, cataloguing the group's struggle for recognition, their rapidly gained superiority on the Manchester scene and the epic numbness following Ian Curtis' shock suicide. Having read Hook's book, you'll feel like you were he fifth member of the band."
— GQ (UK)

"It's a window like no other into the reality of life in this most aloof of bands."
— Metro London

"Vivid, funny, and unexpectedly touching, Peter Hook's memoir strips away the shroud of myth surrounding Joy Division to offer a refreshingly gritty perspective on the story of four ordinary young men who together made extraordinary music."
— Simon Reynolds, author of Rip It Up and Start Again: Postpunk 1978-84

"Unflinchingly honest . . . Hook peels away the romantic sheen colored by its dark history and gives unfettered insight into the band's origins and inspirations . . . this is required reading for anyone who ever felt moved by Joy Division's cold, dark music."
— Kirkus Reviews (starred review)

"A tiny gem written by a monster musician. It's the best document yet to be produced on Joy Division. There's nothing like hearing the story straight from Hooky's foul mouth."
— Rock Cellar Magazine

"Honest, punchy, and rough-hewn . . . a portal into a vivid moment in rock history . . . the life and times of a working band . . . and, in the middle of it all, the transformative power of music."
— Los Angeles Times

. The passages where Hook details the recording of the Unknown Pleasures album are fantastic and insightful . . . . the book itself is gorgeous. . .
— A.V. Club, The Onion

"A surprisingly funny-and gleefully profane-portrait."
— Entertainment Weekly

"Rich in detail."
— LA Weekly

"A comprehensive, illuminating portrait of the band that often takes the piss out of its doom-ridden legacy."
— Cincinnati City Beat

"Intimate."
— San Francisco Chronicle

"Like talking to a bawdy uncle after his fourth beer. Apparently being in the saddest post-punk art-goth band in history can occasionally be pretty fucking funny."
— MTV Hive

With Unknown Pleasures: Inside Joy Division fans can finally hear the band's story from someone who was there from the very beginning-iconic bassist Peter Hook."
— SF Weekly

You don't have to be a hardcore fan of Joy Division or New Order to appreciate Hook's wry evocation of Britain's 1970s punk scene and his street-level remembrance of the tragedy and ecstasy . . . that went into building the foundation for the next few decades' alternative rock scene.
— Neda Ulaby, NPR Best Books of the Year
It Books, 9780062222572, 400pp.
Publication Date: December 3, 2013
About the Author
Peter Hook was born in Salford, England, in 1956. He was a founding member of Joy Division and New Order, and now tours both bands' music with his new group, Peter Hook and the Light. He also DJs, promoting Fac 51 and The Haçienda Classical concerts around the world. He lives in Cheshire, England, with his wife, Rebecca, and children, Heather, Jack, and Jessica, and their dogs, Wilma and Bo.