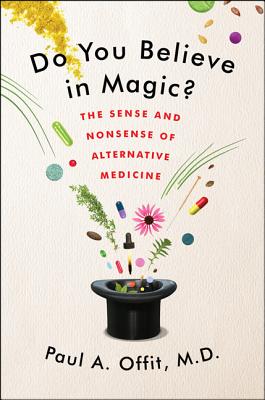 Do You Believe in Magic? (Hardcover)
The Sense and Nonsense of Alternative Medicine
Harper, 9780062222961, 336pp.
Publication Date: June 18, 2013
Other Editions of This Title:
Paperback (5/13/2014)
Compact Disc (1/31/2014)
MP3 CD (1/31/2014)
Compact Disc (1/31/2014)
* Individual store prices may vary.
Description
In Do You Believe in Magic?, medical expert Paul A. Offit, M.D., offers a scathing exposé of the alternative medicine industry, revealing how even though some popular therapies are remarkably helpful due to the placebo response, many of them are ineffective, expensive, and even deadly.

Dr. Offit reveals how alternative medicine—an unregulated industry under no legal obligation to prove its claims or admit its risks—can actually be harmful to our health.

Using dramatic real-life stories, Offit separates the sense from the nonsense, showing why any therapy—alternative or traditional—should be scrutinized. He also shows how some nontraditional methods can do a great deal of good, in some cases exceeding therapies offered by conventional practitioners.

An outspoken advocate for science-based health advocacy who is not afraid to take on media celebrities who promote alternative practices, Dr. Offit advises, "There's no such thing as alternative medicine. There's only medicine that works and medicine that doesn't."
About the Author
Paul A. Offit, MD, is chief of the Division of Infectious Diseases and director of the Vaccine Education Center at the Children's Hospital of Philadelphia, as well as the acclaimed author of Autism's False Prophets, Vaccinated, and Deadly Choices.
Praise For Do You Believe in Magic?: The Sense and Nonsense of Alternative Medicine…
"Important and timely . . . Offit writes in a lucid and flowing style, and grounds a wealth of information within forceful and vivid narratives. This makes his argument - that we should be guided by science - accessible to a wide audience."
— New Republic

"Lively. . . . Informative and well-written, the book deserves a wide audience among the general public, scientists, and health care professionals."
— Science

"Convincing."
— Forbes

"This excellent, easy-to-read look at the alternative-medicine industry is highly recommended."
— Library Journal (starred review)

"Do You Believe in Magic? is a briskly written, entertaining, and well-researched examination of those whom Offit considers 'unclothed emperors': purveyors of miracle cancer cures, fountains of youth, and the theory that vaccines cause autism."
— Boston Globe

"Over the last decade [Offit] has become a leading debunker of mass misconceptions surrounding infections and vaccines, and now he is taking on the entire field of alternative medicine, from acupuncture to vitamins."
— New York Times

"Offit is a wonderful storyteller who makes his message come alive. Each chapter is a story that grabs the reader's interest and holds it."
— Skeptical Inquirer

"A fascinating history of hucksters, and a critical chronology of how supplements escaped regulation. . . . A bravely unsentimental and dutifully researched guide for consumers to distinguish between quacks and a cure."
— Publishers Weekly (starred review)

"A rousing good read, strong on human interest and filled with appalling and amazing data."
— Kirkus Reviews (starred review)

"Offit is a rare combination of scientist, doctor, communicator and advocate. . . . What is needed is more people like [him] willing to engage the skeptics in a debate that just will not go away."
— Financial Times, on Deadly Choices

"Few scientists are willing to touch this third rail of science publicity; Offit grabs it with two hands."
— Newsweek, on Autism's False Prophets

"An invaluable chronicle that relates some of the many ways in which the vulnerabilities of anxious parents have been exploited."
— Wall Street Journal, on Autism's False Prophets
or
Not Currently Available for Direct Purchase