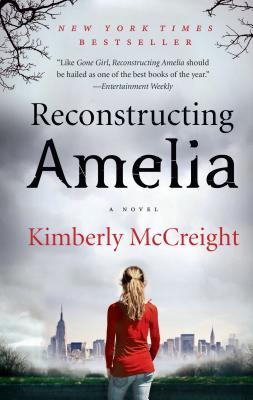 Reconstructing Amelia
A Novel
Paperback

* Individual store prices may vary.
Other Editions of This Title:
Digital Audiobook (4/1/2013)
Digital Audiobook (8/31/2013)
Paperback, Large Print (4/2/2013)
Compact Disc (7/8/2014)
Compact Disc (7/8/2014)
Description
New York Times Bestseller
"Like Gone Girl, Reconstructing Amelia seamlessly marries a crime story with a relationship drama. And like Gone Girl, it should be hailed as one of the best books of the year."  — Entertainment Weekly
The stunning debut novel from Kimberly McCreight in which a single mother reconstructs her teenaged daughter Amelia's tragic death, sifting through her emails, texts, and social media to piece together the shocking truth about the last days of her life.
Kate's in the middle of the biggest meeting of her career when she gets the telephone call from Grace Hall, her daughter's exclusive private school in Park Slope, Brooklyn. Amelia has been suspended, effective immediately, and Kate must come get her daughter—now. But Kate's stress over leaving work quickly turns to panic when she arrives at the school and finds it surrounded by police officers, fire trucks, and an ambulance. By then it's already too late for Amelia. And for Kate.
An academic overachiever despondent over getting caught cheating has jumped to her death. At least that's the story Grace Hall tells Kate. And clouded as she is by her guilt and grief, it is the one she forces herself to believe. Until she gets an anonymous text: She didn't jump.
Reconstructing Amelia is about secret first loves, old friendships, and an all-girls club steeped in tradition. But, most of all, it's the story of how far a mother will go to vindicate the memory of a daughter whose life she couldn't save.
Praise For Reconstructing Amelia: A Novel…
"Like Gone Girl, Reconstructing Amelia seamlessly marries a crime story with a relationship drama. And like Gone Girl, it should be hailed as one of the best books of the year…A" — Entertainment Weekly
"Just finished a fantastic novel–Reconstructing Amelia by Kimberly McCreight. So. Well. Done. If you liked Gone Girl, you'll love this too." — Jodi Picoult
"Clever and scary . . . McCreight has her finger on the private school zeitgeist. . .and this disturbing tale will make older readers fondly recall the days when kids got in trouble for passing (print) notes in class." — USA Today
"Did Amelia Baron really get caught cheating and then commit suicide—or is the truth more sinister? A nail-biter for Gone Girl fans." — People
"Reconstructing Amelia will keep you hooked till the last page." — BookPage
"Gossip Girl meets Gone Girl." — Entertainment Weekly, "Summer Must" List
"Wow! I was pulled in after reading the first page.… It's sort of a thriller/prep school teen drama that is full of secrets." — People.com Staff Pick
"[A] mystery with enough red herring to stock Lake Michigan…this is the novel most likely to be found in coming weeks not on the beach but on the F train. " — New York Times
"McCreight captures the complexities, cruelty and angst of teenage girls so well my stomach was in knots. What really happened to Amelia? You'll find yourself staying up all night to find out." — Jennifer McMahon, New York Times-bestselling author of The One I Left Behind
"The real story of Amelia's life and death emerges slowly, through a creative blend of Kate's present, Amelia's past, and such varied communication methods as texts, e-mails, blog entries, and Facebook status updates. . . . Fans of literary thrillers will enjoy the novel's dark mood and clever form." — Publishers Weekly
"A multilayered legal thriller. . . . Comes to a seamless and unanticipated conclusion." — Kirkus Reviews
"An elaborately plotted mystery. . . . A harrowing story. . . . McCreight does a fne job of building suspense and creating characters, notably Kate and Amelia, whom the target audience—both adults and older teens—will care about and empathize with." — Booklist
"McCreight combines a poignant, pulled-from-the-headlines story with writing sanctified by Antietam Review and Oxford magazine." — Library Journal
"We love a powerful debut, and this is just that.… It's Mean Girls meets The Secret History meets the cyberbullying case of Amanda Todd––and it's unputdownable." — Daily Candy
"Fast-paced and suspenseful…. a page-turning mystery and thriller will appeal to…fans of Jodi Picoult." — School Library Journal
"Kimberly McCreight's debut novel shines a light on teen-girl culture.…I wanted to keep reading." — Pittsburgh Post-Gazette
"A tale of elaborate mystery intertwined with the tenderness of a mother's love, Reconstructing Amelia exudes suspense at every turn…. Gripping and tragic, [it] is a true page turner." — Click
Harper Perennial, 9780062225443, 400pp.
Publication Date: December 3, 2013
About the Author
Kimberly McCreight is the New York Times bestselling author of Reconstructing Amelia, which was nominated for the Edgar, Anthony, and Alex Awards; Where They Found Her; and The Outliers young adult trilogy. She attended Vassar College and graduated cum laude from the University of Pennsylvania Law School. She lives in Brooklyn with her husband and two daughters.