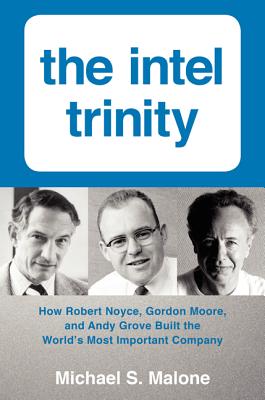 The Intel Trinity (Hardcover)
How Robert Noyce, Gordon Moore, and Andy Grove Built the World's Most Important Company
Harper Business, 9780062226761, 560pp.
Publication Date: July 15, 2014
* Individual store prices may vary.
Description
Based on unprecedented access to the corporation's archives, The Intel Trinity is the first full history of Intel Corporation—the essential company of the digital age— told through the lives of the three most important figures in the company's history: Robert Noyce, Gordon Moore, and Andy Grove.
Often hailed the "most important company in the world," Intel remains, more than four decades after its inception, a defining company of the global digital economy. The legendary inventors of the microprocessor-the single most important product in the modern world-Intel today builds the tiny "engines" that power almost every intelligent electronic device on the planet.
But the true story of Intel is the human story of the trio of geniuses behind it. Michael S. Malone reveals how each brought different things to Intel, and at different times. Noyce, the most respected high tech figure of his generation, brought credibility (and money) to the company's founding; Moore made Intel the world's technological leader; and Grove, has relentlessly driven the company to ever-higher levels of success and competitiveness. Without any one of these figures, Intel would never have achieved its historic success; with them, Intel made possible the personal computer, Internet, telecommunications, and the personal electronics revolutions.
The Intel Trinity is not just the story of Intel's legendary past; it also offers an analysis of the formidable challenges that lie ahead as the company struggles to maintain its dominance, its culture, and its legacy.
With eight pages of black-and-white photos.
About the Author
Michael S. Malone is one of the world's best-known technology writers. A veteran newspaper reporter and columnist, magazine editor, and entrepreneur, he is the author or coauthor of nearly twenty award-winning books, notably the bestselling The Virtual Corporation, Bill & Dave, and The Intel Trinity.
Praise For The Intel Trinity: How Robert Noyce, Gordon Moore, and Andy Grove Built the World's Most Important Company…
"Through extensive and unprecedented access to Intel's archives, Malone describes how each of these vital members of Intel brought various skills and talents to the company to make it the giant it is today."
— Entrepreneur's 25 Amazing Business Books from 2014

"This is business history at its best."
— Wall Street Journal

"What's been missing is an authoritative work that blends all the key people and the technology with a thorough, up-to-date business history. "The Intel Trinity" fills that gap."
— The Wall Street Journal

"What he has produced is popular history, the tale of an epoch-defining industrial romp and the three men who led it."
— Washington Post

"The Intel Trinity is a fine introduction to the founding myths legends of Silicon Valley."
— Salon

"Richly detailed, swiftly moving work of modern business history, recounting a truly world-changing technology and the people who made it possible. Essential for aspiring entrepreneurs, to say nothing of those looking for a view of how the modern, speed-of-light world came to be."
— Kirkus Reviews (starred review)

"Michael Malone, one of the most interesting chroniclers of Silicon Valley, has produced a fascinating history of Intel. It's a valuable study of innovation, great leadership, and colorful personalities. Anyone who wants to know how creativity leads to invention should read this wonderful book."
— Walter Isaacson, author of Steve Jobs

"Few people capture the rhythms and values that fuel Silicon Valley as well as longtime journalist Michael S. Malone. In his latest book, he takes on the history of Intel, a company he started covering when most reporters were still using typewriters. He reveals his deep knowledge on every page."
— Reid Hoffman, cofounder & chairman of LinkedIn and co-author of The Alliance

"Mike Malone's book on Bob Noyce, Gordon Moore and Andy Grove - Silicon Valley's Mount Rushmore - belongs with Walter Isaacson's treatment of Steve Jobs, Neal Gabler's opus on Walt Disney, and Tom Wolfe's look at the first astronauts. Trinity is that big and that good."
— Rich Karlgaard, Publisher and Columnist, Forbes Magazine, Author of The Soft Edge

"Malone moves past the standard Intel mythology to uncover many aspects of the company's ascendance that have been glossed over or lost to history. Malone gives long-overdue credit to the unsung heroes and inventors for their contributions."
— Booklist