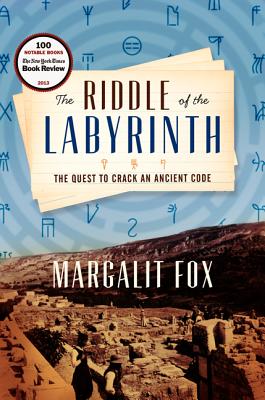 The Riddle of the Labyrinth (Hardcover)
The Quest to Crack an Ancient Code
Ecco, 9780062228833, 384pp.
Publication Date: May 14, 2013
Other Editions of This Title:
Digital Audiobook (9/22/2013)
Paperback (4/15/2014)
MP3 CD (9/23/2013)
Compact Disc (9/23/2013)
Compact Disc (9/23/2013)
* Individual store prices may vary.
Description
In the tradition of Simon Winchester and Dava Sobel, The Riddle of the Labyrinth: The Quest to Crack an Ancient Code tells one of the most intriguing stories in the history of language, masterfully blending history, linguistics, and cryptology with an elegantly wrought narrative.
 
When famed archaeologist Arthur Evans unearthed the ruins of a sophisticated Bronze Age civilization that flowered on Crete 1,000 years before Greece's Classical Age, he discovered a cache of ancient tablets, Europe's earliest written records. For half a century, the meaning of the inscriptions, and even the language in which they were written, would remain a mystery.
                                              
Award-winning New York Times journalist Margalit Fox's riveting real-life intellectual detective story travels from the Bronze Age Aegean—the era of Odysseus, Agamemnon, and Helen—to the turn of the 20th century and the work of charismatic English archeologist Arthur Evans, to the colorful personal stories of the decipherers. These include Michael Ventris, the brilliant amateur who deciphered the script but met with a sudden, mysterious death that may have been a direct consequence of the deipherment; and Alice Kober, the unsung heroine of the story whose painstaking work allowed Ventris to crack the code.
About the Author
An award-winning journalist trained as a linguist, Margalit Fox is a senior writer at the New York Times. She holds bachelor's and master's degrees in linguistics from Stony Brook University and a master's degree in journalism from Columbia Univer-sity. She lives in Manhattan with her husband, the writer and critic George Robinson.
Praise For The Riddle of the Labyrinth: The Quest to Crack an Ancient Code…
"Fox is a talented storyteller, and she creates an atmosphere of almost nail-biting suspense. . . . This one deserves shelf space along such classics of the genre as Simon Singh's The Code Book."
— Booklist (starred review)

"A fascinating yarn centered around an unlikely heroine. . . . Fox's deft explanations of the script-solving process allow readers to share in the mental detective work of cracking the lost language."
— Publishers Weekly

"Fox recreates the emergence of one of history's most vexing puzzles—and then puts readers alongside the remarkable figures who, brilliantly, obsessively, and even tragically, devoted their lives to solving it. Forget the Da Vinci Code. This is the real thing."
— Toby Lester, author of Da Vinci's Ghost

"Margalit Fox describes the decipherment of Linear B in such lucid detail that any reader can follow the steps and participate in the thrill of discovery."
— Stephen Mitchell, translator of Gilgamesh and the Iliad

"Fox's achievement here is to make this fascinating tale accessible to a broader audience."
— Washington Post

"… a nail-biting intellectual and cultural adventure."
— The Times UK

"Deft, sharply written … Fox's account runs with the pace and tension of a detective story - and has much to say about language and writing systems along the way."
— The Guardian UK

"[Fox] … has cracked it, fashioning an intellectual puzzle into an engrossing detective story of driven personalities, hidden clues, perseverance and intuition. In the process, she has uncovered a remarkable woman who had been buried by history."
— Sunday Times UK

"As with any good detective story, there's a driving narrative behind the puzzle, peopled by solitary sleuths."
— The Guardian US
or
Not Currently Available for Direct Purchase