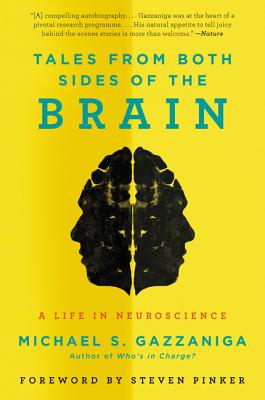 Tales from Both Sides of the Brain (Paperback)
A Life in Neuroscience
Ecco, 9780062228857, 448pp.
Publication Date: January 26, 2016
Other Editions of This Title:
Digital Audiobook (2/2/2015)
Hardcover (2/3/2015)
Pre-Recorded Audio Player (2/1/2015)
Compact Disc (2/3/2015)
Compact Disc (2/3/2015)
* Individual store prices may vary.
Description
Michael S. Gazzaniga, one of the most important neuroscientists of the twentieth century, gives us an exciting behind-the-scenes look at his seminal work on that unlikely couple, the right and left brain. Foreword by Steven Pinker.
In the mid-twentieth century, Michael S. Gazzaniga, "the father of cognitive neuroscience," was part of a team of pioneering neuroscientists who developed the now foundational split-brain brain theory: the notion that the right and left hemispheres of the brain can act independently from one another and have different strengths.
In Tales from Both Sides of the Brain, Gazzaniga tells the impassioned story of his life in science and his decades-long journey to understand how the separate spheres of our brains communicate and miscommunicate with their separate agendas. By turns humorous and moving, Tales from Both Sides of the Brain interweaves Gazzaniga's scientific achievements with his reflections on the challenges and thrills of working as a scientist. In his engaging and accessible style, he paints a vivid portrait not only of his discovery of split-brain theory, but also of his comrades in arms—the many patients, friends, and family who have accompanied him on this wild ride of intellectual discovery.
About the Author
Michael S. Gazzaniga is internationally recognized in the field of neuroscience and a pioneer in cognitive research. He is the director of the SAGE Center for the Study of the Mind at the University of California, Santa Barbara. He is the author of many popular science books, including Who's in Charge? (Ecco, 2011). He has six children and lives in California with his wife.
Praise For Tales from Both Sides of the Brain: A Life in Neuroscience…
"The idea that one skull can house two minds, each with a measure of autonomy, has also given way to the idea that we all have "multiple minds" operating as a "confederation," according to Gazzaniga. How this system creates a seemingly unified mind . . . remains a compelling question."
— New York Times Book Review

"Tales will be cataloged as scientific autobiography. . . . But it is as much a book about gratitude—for the chance to study a subject as endlessly fascinating as the brain, for the author's brilliant colleagues and . . . for the patients who taught him . . . so much."
— Wall Street Journal

"[A] compelling autobiography . . . Gazzaniga was at the heart of a pivotal research programme and struck up friendships with neuroscience and psychology luminaries. . . . his natural appetite to tell juicy-behind-the-scenes stories is more than welcome."
— Nature

"One of the fathers of cognitive neuroscience narrates his life's work in this warm memoir illuminating the birth of the revolutionary split-brain theory . . . Gazzaniga's tales of decades-long friendships show that science can be a surprisingly social co-creative effort that thrives outside the lab."
— Entertainment Weekly

"In this fascinating memoir . . . [Gazzaniga's] warmth and good humor virtually jump off the page. . . . Gazzaniga's memoir should delight fans of the television series The Big Bang Theory, but it will also have tremendous appeal for non-nerds, too."
— Booklist, Starred Review

"A fascinating affirmation of our essential humanity."
— Kirkus Reviews

" . . . A winding tale of a life lived in science and the joys of bringing science to the public. . . . Gazzaniga's book is of great interest to . . . anyone intrigued by the story of one of the greatest discoveries in cognition."
— Publishers Weekly

"It is fascinating to read about the stories going on behind the split-brain experiments that don't make it into the scientific literature. . . . Good for readers who enjoy scientific biographies and anyone interested in neuroscience."
— Library Journal

"The story of how science works interwoven with the life of a brilliant scientist who not only created an entire new field of inquiry but just happened to live in the Animal House at Dartmouth. A marvelous, exciting adventure, elegantly written."
— Daniel J. Levitin, author of This Is Your Brain on Music: The Science of a Human Obsession and The Organized Mind: Thinking Straight in the Age of Information Overload

"The personal story of a genius famous for one of the rare major discoveries ever made out in the still vast, still baffling terra incognita of the human brain, namely, the split-brain phenomenon."
— Tom Wolfe, author of The Electric Kool-Aid Acid Testand The Right Stuff

"Tales From Both Sides of the Brain is a fun, accessible story of not just how both halves of our minds function but also how a group of brilliant and sweetly quirky neuroscientists have struggled to find answers."
— Conan O'Brien, host of Conan

"Mike Gazzaniga's personal, charming story of how he uncovered the mysteries of the way our left and right brains collaborate is fascinating. This book makes you think twice about thinking. Two heads really are better than one--and most of us have both in the same skull."
— Alan Alda

"Gazzaniga ... reveals the role of ego, politics, jealousy, envy, lust, and all the other deadly sins in the advance of human knowledge. This is a must-read for those who care about science, history, the human brain, and, speaking only metaphorically, the human heart."
— Eric Kaplan, coproducer and writer of The Big Bang Theory

"Gazzaniga ... gives us insight into the importance of his role as an inspired educator who single-handedly established the field of cognitive neuroscience.... The thrill of his journey reveal a life that has been enriched by science and enhanced by family, friends, fun, and humor."
— Emilio Bizzi, Ph.D, professor at the Massachusetts Institute of Technology

"Gazzaniga almost single-handedly initiated and persistently fostered … the creation of cognitive neuroscience. This is a book full of prescient insights, sage advice, and entertaining anecdotes about how that was achieved. It is an essential read for scientists young and old, policy makers, and an informed public."
— Marcus E. Raichle, professor at the Washington University School of Medicine, St. Louis

"A marvelous and important book by a marvelous and important man."
— Christopher Buckley

"The 'Tales…'provide a rare, firsthand neuroscientific account of an incredible surgical treatment, with several rich clinical insights into brain operations as envisioned by a great story teller. These richly detailed stories will teach, inform, and stimulate the reader's mind."
— Floyd E. Bloom MD, Professor Emeritus, The Scripps Research Institute

"A few great autobiographies serve to demonstrate the humans behind the progress in psychology and cognitive science over the last fifty years. With this book Michael Gazzaniga joins B.F. Skinner and Herbert Simon in this elite, must-read category."
— Michael Posner, Professor Emeritus, University of Oregon

"Gazzaniga's fascinating memoir is best described as a love story. He draws us in with his love of science [and] with his love of life. . . . he not only opened doors for generations of scientists. . . [he] showed them how to have great time doing it."
— Elizabeth Phelps, Professor at New York University

"Michael Gazzaniga has left an indelible stamp on our understanding of the human brain. . . . This wonderfully readable book paints a different picture - of the collegiality and friendship that energized the life of one of the most influential of contemporary psychologists.""
— Sir Colin Blakemore, School of Advanced Study, University of London