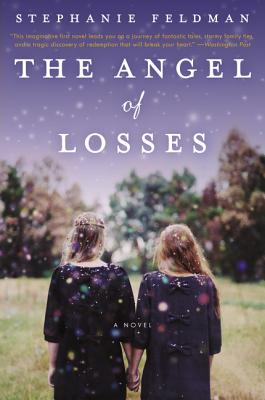 The Angel of Losses (Paperback)
A Novel
Ecco, 9780062228925, 304pp.
Publication Date: June 23, 2015
Other Editions of This Title:
Hardcover (7/29/2014)
* Individual store prices may vary.
Description
Now in paperback, the inventive, lushly imagined debut novel—reminiscent of The Tiger's Wife and The History of Love—that explores the intersections of family secrets, Jewish myths, the legacy of war and history, and the bonds between sisters
Sisters Marjorie and Holly are best friends—until Holly converts to a mysterious Jewish sect and marries a controlling man Marjorie despises. When Holly announces she's expecting her first child, Marjorie fears that she's lost her sister forever.
But then Marjorie discovers their late grandfather Eli's notebook and its tale about a wizard named the White Rebbe and his struggle against the Angel of Losses, protector of the lost letter of the alphabet, which completes the secret name of God. Everything Marjorie thought she knew about her family comes undone. To learn the truth, she embarks on an odyssey that will lead her deep into the past and back to the present—and finally to her estranged sister, Holly, whom she must save from the consequences of Eli's secrets.
Interweaving history, theology, and both real and imagined Jewish folktales, The Angel of Losses is a family story of what lasts, and of what we can—and cannot—escape.
About the Author
Stephanie Feldman is a graduate of Barnard College. She lives outside Philadelphia with her husband and her daughter.
Praise For The Angel of Losses: A Novel…
"Stephanie Feldman's debut novel, The Angel of Losses, is haunting. Even more gripping than the real and imagined folktales that Feldman weaves into the book, however, is her exploration of sisterly rifts and bonds and family secrets shrouded by time."
— Philadelphia Inquirer

"In her spellbinding debut novel, Stephanie Feldman tells an epic tale of mystery, discovery, and familial love…Feldman's debut novel is moving, mature, and deeply original."
— Ploughshares

"Stephanie Feldman writes with tremendous warmth, tenderness and insight, and The Angel of Losses is a smart and beautiful novel that is all at once a literary thriller, a multigenerational family saga and a stunning exploration of Jewish mysticism. I loved this book."
— —Molly Antopol, National Book Foundation 5 Under 35 Honoree and author of The UnAmericans: Stories

"Feldman mixes legend, mystery, and history to create an intricate story that bridges yesterday and today."
— —Historical Novels Review

"Feldman's debut novel is an unusual combination of literary thriller, family drama, and Jewish mysticism . . . Fans of Elizabeth Kostova's The Historian or the works of Lev Grossman will find something here in a similar vein, but with a little quieter pacing and a little more spirituality."
— —Library Journal

"This impressive debut from Feldman is a page-turner that celebrates sisterly love."
— —Publishers Weekly

"Family saga, mystery, and myth intersect in Feldman's debut novel...the vivid, imaginative unraveling makes the investigative approach to reading this tale worthwhile."
— —Booklist

"Figures from Jewish mysticism and mythology, a Russian grandfather's legacy and the fate of a newborn child entwine in [this] inventive debut. With its wheeling stars, magical rabbi, disgraced angels, black dogs and European hinterland, Feldman's novel . . .has the flavor of Chagall's visionary art."
— —Kirkus Reviews

"This book was amazing. The protagonist, a grad student in literature, uncovers a story scribbled down by her grandfather, and everything starts to unravel. Jewish folklore. Family secrets. Hidden identities. Hidden notebooks. Bitter estrangements. It's beautifully constructed and just plain beautiful. Mark your calendars now, people. Mark them now. "
— —Bookriot

"Lucid, tender and masterfully portrayed, The Angel of Losses is an intergenerational story of perseverance and love in a changing world. Rich with Jewish lore and history, there is magic at play here in more than one sense. A must-read."
— —G. Willow Wilson, author of Alif the Unseen

"Stephanie Feldman is one of the smartest and most original young writers at work today...With a deft understanding of the irreducibility of human relationships, Feldman leads us through love and loss and back to love again. Watch out for her. She is here to stay."
— —Sheri Holman, author of The Dress Lodger

"This imaginative first novel leads you on a journey of fantastic tales, stormy family ties and a tragic discovery of redemption that will break your heart."
— Washington Post

"Feldman's prose is intelligent, engaging, and at times figurative... a versatile virtuosity impressive for a debut work."
— New York Journal of Books

"Feldman is an ambitious writer who conjures up instead a deeply moving modern-day fable that far transcends the boundaries of its location and time."
— NPR, All Things Considered

"The Angel of Losses is an ambitious work by a brilliant new author.
— BookPage

"It's beautifully constructed and just plain beautiful."
— Book Riot
or
Not Currently Available for Direct Purchase