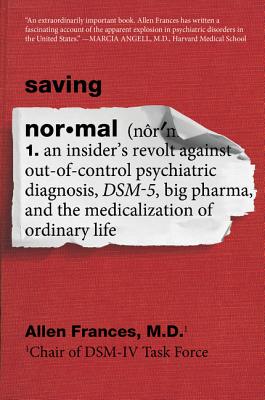 Saving Normal
An Insider's Revolt against Out-of-Control Psychiatric Diagnosis, DSM-5, Big Pharma, and the Medicalization of Ordinary Life
Paperback

* Individual store prices may vary.
Other Editions of This Title:
MP3 CD (6/14/2017)
Compact Disc (6/14/2017)
Description
International Bestseller • "An extraordinarily important book." —Marcia Angell, Harvard Medical School
A deeply fascinating and urgently important critique of the widespread medicalization of normality, by "one of the world's most prominent psychiatrists" (The Atlantic)
Anyone living a full, rich life experiences ups and downs, stresses, disappointments, sorrows, and setbacks. Today, however, millions of people who are really no more than "worried well" are being diagnosed as having a mental disorder and receiving unnecessary treatment. In Saving Normal, Allen Frances, one of the world's most influential psychiatrists, explains why stigmatizing a healthy person as mentally ill leads to unnecessary, harmful medications, the narrowing of horizons, the misallocation of medical resources, and the draining of the budgets of families and the nation. We also shift responsibility for our mental well-being away from our own naturally resilient brains and into the hands of "Big Pharma," who are reaping multi-billion-dollar profits. Frances cautions that the newest edition of the "bible of psychiatry," the Diagnostic and Statistical Manual of Mental Disorders-5 (DSM-5), is turning our current diagnostic inflation into hyperinflation by converting millions of "normal" people into "mental patients." Saving Normal is a call to all of us to reclaim the full measure of our humanity.
Praise For Saving Normal: An Insider's Revolt against Out-of-Control Psychiatric Diagnosis, DSM-5, Big Pharma, and the Medicalization of Ordinary Life…
"Frances delves deeply into the history of mental illness, makes his arguements crisply, and has good personal stories to tell. He's articulate and learned. ... He's in favor of not medicating, and thus muffling, all the offbeat pain and beauty out of existance. ... [A] piece of intellectual skywriting." — Dwight Garner, New York Times
"An extraordinarily candid and important book. Allen Frances has written a fascinating account of the apparent explosion in psychiatric disorders in the United States. — MARCIA ANGELL, M. D., Senior Lecturer in Social Medicine at Harvard Medical School, and former Editor-in-Chief, New England Journal of Medicine
"Saving Normal is a riveting and important book, written with great flair and precise passion. This is a book every psychiatrist, every general practitioner, every student swallowing meds--in fact everyone--needs to read." — Dr. LISA APPIGNANESI, Chair of the Freud Museum, London, and author of Mad, Bad and Sad
"Frances is largely credited with spearheading the anti-DSM-5 efforts." — CNN.com
"Saving Normal is a clear, convincing, and essential discussion of the twin epidemics facing modern psychiatry: under-treatment of the truly ill and overtreatment of the basically well. It holds immense potential to improve patients' lives." — JOSH BAZELL, M.D., New York Times bestselling author of Beat the Reaper: A Novel
"Few are as well-equipped as Frances to map the dynamic field of psychiatry, and his rendering of its shifting contours is timely, crucial, and insightful--as are his solutions for navigating it." — Publishers Weekly
"With Solomon-like wisdom, Frances justly doles out blame and offers reasonable remedies. His decree: don't medicalize human difference; celebrate it." — Booklist (starred review)
"A valuable assessment. ... A no-holds-barred critique." — Kirkus Reviews
"An indispensable guide for professional and lay readers" — Library Journal
"Allen Frances's book is fascinating. ... Entertaining." — Metapsychology
"Authoritative. ... Valuable. ... This is a detailed, nicely constructed account by a highly qualified and well-connected psychiatrist with intimate knowledge of the process. The book is clearly written and surprisingly easy reading." — The Royal Australian and New Zealand College of Psychiatrists
Mariner Books, 9780062229267, 352pp.
Publication Date: August 12, 2014
About the Author
Allen Frances, MD, is professor emeritus and former chair of the Department of Psychiatry and Behavioral Science at Duke University School of Medicine. Dr. Frances was the chairman of the DSM-IV Task Force and a member of the leadership group for DSM-III and DSM-III-R. He is the author of the award-winning international bestseller Saving Normal and the reference work Essentials of Psychiatric Diagnosis. He lives in San Diego, California.