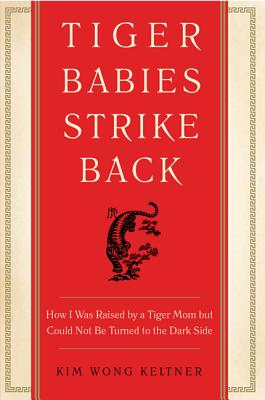 Tiger Babies Strike Back (Paperback)
How I Was Raised by a Tiger Mom but Could Not Be Turned to the Dark Side
William Morrow Paperbacks, 9780062229298, 272pp.
Publication Date: April 30, 2013
* Individual store prices may vary.
Description
An answer to Amy Chua's Battle Hymn of the Tiger Mother, author Kim Wong Keltner's Tiger Babies Strike Back takes the control-freak beast by the tail with a humorous and honest look at the issues facing women today—Chinese-American and otherwise.
Keltner, the author of the novels Buddha Baby and I Want Candy, mines her own past in an attempt to dispel the myth that all Chinese women are Tiger Mothers. Keltner strikes back at Chua's argument through topics, including "East Meets West in the Board Room and the Bedroom," and "I Was Raised by a Tiger Mom and All I Got Was this Lousy T-Shirt: A Rebuttal to Chua."
Through personal anecdotes and tough-love advice, Keltner's witty and forthright opinions evoke an Asian-American Sex and the City, while showing how our families shape our personal worlds.
About the Author
The only thing that keeps Kim Wong Keltner from writing is when she's trapped under an avalanche of her daughter's stuffed animals. Keltner is the author of The Dim Sum of All Things, Buddha Baby, and I Want Candy. Tiger Babies Strike Back is her first work of nonfiction.
Praise For Tiger Babies Strike Back: How I Was Raised by a Tiger Mom but Could Not Be Turned to the Dark Side…
"The author writes with compassion, humor, love and anger about her mother's combination of tough love and high expectations…A quirky reflection on the modern immigrant experience and hyphenated ethnicity in America."
— Kirkus Reviews

"An inspiring take on mothering -- and daughtering. The book is smart, creative, and thought-provoking."
— Linda Small, author of Wimpy Parents: How Not to Raise a Brat

"A sort of Asian American Sex in the City...like meeting someone who voices thoughts or experiences that you presumed were wholly yours...cynically humorous and genuinely touching...Keltner's wry sens of humor leaps off every page."
— generationrice

"Full of feisty humor. . . . Smart and sassy."
— USA Today

It's awesome to find such deep truth that makes you laugh this hard.
— Beth Lisick, author of Everybody Into the Pool
or
Not Currently Available for Direct Purchase