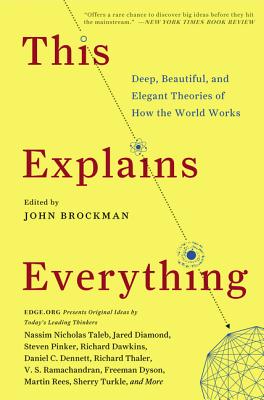 This Explains Everything
Deep, Beautiful, and Elegant Theories of How the World Works (Edge Question Series)
Paperback

* Individual store prices may vary.
Other Editions of This Title:
Digital Audiobook (2/4/2014)
MP3 CD (2/5/2014)
Compact Disc (2/5/2014)
Description
Drawn from the cutting-edge frontiers of science, This Explains Everything will revolutionize your understanding of the world.
What is your favorite deep, elegant, or beautiful explanation? This is the question John Brockman, publisher of Edge.org ("The world's smartest website"—The Guardian), posed to the world's most influential minds. Flowing from the horizons of physics, economics, psychology, neuroscience, and more, This Explains Everything presents 150 of the most surprising and brilliant theories of the way of our minds, societies, and universe work.
Jared Diamond on biological electricity • Nassim Nicholas Taleb on positive stress • Steven Pinker on the deep genetic roots of human conflict • Richard Dawkins on pattern recognition • Nobel Prize-winning physicist Frank Wilczek on simplicity • Lisa Randall on the Higgs mechanism • BRIAN Eno on the limits of intuition • Richard Thaler on the power of commitment • V. S. Ramachandran on the "neural code" of consciousness • Nobel Prize winner ERIC KANDEL on the power of psychotherapy • Mihaly Csikszentmihalyi on "Lord Acton's Dictum" • Lawrence M. Krauss on the unification of electricity and magnetism • plus contributions by Martin J. Rees • Kevin Kelly • Clay Shirky • Daniel C. Dennett • Sherry Turkle • Philip Zimbardo • Lee Smolin • Rebecca Newberger Goldstein • Seth Lloyd • Stewart Brand • George Dyson • Matt Ridley
Praise For This Explains Everything: Deep, Beautiful, and Elegant Theories of How the World Works (Edge Question Series)…
"A smorgasbord of ideas." — Kirkus Reviews
"Offers a rare chance to discover big ideas before they hit the mainstream." — New York Times Book Review
"Fun and inspirational. … This engaging collection can be read from cover to cover or browsed as interest dictates, but all inquisitive readers will enjoy it. Highly recommended…" — Library Journal
"Characteristically thought-provoking and reliably cross-disciplinary, This Explains Everything is a must-read in its entirety." — Brain Pickings
"A collection of essays by big thinkers answering big questions [should be] deeply satisfying. And This Explains Everything delivers." — New Scientist
"The most stimulating English-language reading to be had from anywhere in the world." — The Canberra Times
"Delivers an intellectual mélange you can dip into and savor. ... The reader gets something new at each turn of the page." — New York Journal of Books
"A collection that reads like the best TED talks ever. It's an absolute pleasure to read." — FAREED ZAKARIA
"Rich in mental fodder. ... An indispensable way to sample thinking from many corners of the intellectual spectrum." — Pop Matters
Harper Perennial, 9780062230171, 432pp.
Publication Date: January 22, 2013
About the Author
The publisher of the online science salon Edge.org, John Brockman is the editor of Know This, This Idea Must Die, This Explains Everything, This Will Make You Smarter, and other volumes.