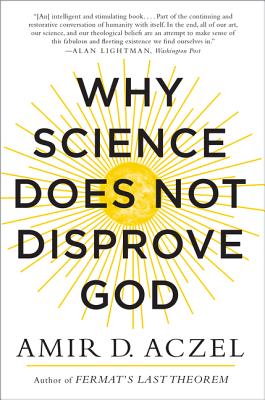 Why Science Does Not Disprove God
Paperback

* Individual store prices may vary.
Other Editions of This Title:
Digital Audiobook (4/14/2014)
Hardcover (4/15/2014)
Description
Based on interviews with eleven Nobel Prize winners and many other prominent physicists, biologists, anthropologists, and psychologists, as well as leading theologians and spiritual leaders, Why Science Does Not Disprove God is a "well-informed and readable" (Wall Street Journal) analysis of the religious implications of our ever-increasing understanding of life and the universe. The renowned science writer Amir Aczel ("One of our best science popularizers"—Publishers Weekly) masterfully refutes the overreaching claims of the "New Atheists," providing millions of educated believers with a clear, engaging explanation of what science really says, how there's still much space for the Divine in the universe, and why faith in both God and empirical science are not mutually exclusive.
Praise For Why Science Does Not Disprove God…
"If everyone understood as well as Amir Aczel does that scientific and religious ways of knowing belong to entirely separate and uncompeting forms of human experience, the world would be a much more pleasant place to live in."
— IAN TATTERSALL, American Museum of Natural History (Division of Anthropology); author of Masters of the Planet: In Search of Our Human Origins

"Amir Aczel combines scientific credibility, stylistic elegance, and argumentative vigor in Why Science Does Not Disprove God. What's more, he's right."
— RABBI DAVID WOLPE, Sinai Temple (Los Angeles); author of Why Faith Matters

"[A] thoughtful, erudite journey through modern science and philosophy, and a clear exposition of a problem with which humans have struggled for millennia."
— MARIO LIVIO, astrophysicist, Space Telescope Science Institute; author of Is God a Mathematician? and Brilliant Blunders

"Aczel is one of our best science popularizers."
— Publishers Weekly

"Amir Aczel is a pop idol of the science-writing world."
— Willamette Week

"In Aczel, Richard Dawkins and his fellow New Atheists face a formidable opponent. Aczel wields impressive intellectual weapons in demolishing the New Atheists' claims. ... With compelling reasoning, Aczel demonstrates that Dawkins and his allies ... distort or misrepresent the methods and findings of science."
— Booklist (starred review)

"[An] intelligent and stimulating book. ... Part of the continuing and restorative conversation of humanity with itself. In the end, all of our art, our science and our theological beliefs are an attempt to make sense of this fabulous and fleeting existence we find ourselves in."
— ALAN LIGHTMAN, Washington Post

"Explains that science and religion should not be mutually exclusive [and] you can embrace scientific progress while staying devoted to your faith."
— Beliefnet
William Morrow Paperbacks, 9780062230607, 304pp.
Publication Date: March 17, 2015
About the Author
Amir D. Aczel, Ph.D., is the author of the international bestseller Fermat's Last Theorem, which has been published in twenty-eight languages. A past recipient of a Sloan Foundation grant and a Guggenheim fellowship, Aczel was a visiting scholar at Harvard University from 2005 to 2007 and is currently a research fellow in the history of science at Boston University. He is a regular contributor to Discover magazine.