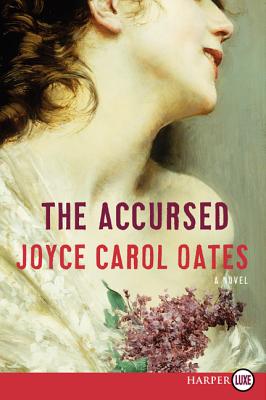 The Accursed
A Novel
Paperback

* Individual store prices may vary.
Other Editions of This Title:
Digital Audiobook (3/4/2013)
Paperback (11/26/2013)
Hardcover (3/5/2013)
Description
Princeton, New Jersey, at the turn of the twentieth century. Vampires and ghosts haunt the dreams of the innocent. A powerful curse besets the elite families of Princeton—their daughters begin disappearing. And in the Pine Barrens that border the town, a lush and terrifying underworld opens up.
An utterly fresh work from Oates, The Accursed marks new territory for the masterful writer—narrated with her unmistakable psychological insight, it combines beautifully transporting historical detail with chilling supernatural elements to stunning effect.
Praise For The Accursed: A Novel…
"Joyce Carol Oates has written what may be the world's finest postmodern Gothic novel: E.L. Doctorow's 'Ragtime' set in Dracula's castle. It's dense, challenging, problematic, horrifying, funny, prolix and full of crazy people. You should read it... Oates's hypnotic prose has never been better displayed."
— Stephen King, New York Times Book Review (Cover Review)

"Spectacular. . . With its vast scope, its mingling of comic and tragic tones, its omnivorous gorging on American literature, and especially its complex reflection on the major themes of our history, The Accursed is the kind of outrageous masterpiece only Joyce Carol Oates could create."
— Ron Charles, Washington Post

"A brilliant Gothic mystery that has the punch of historical fiction. Currents of race, class and academic intrigue swirl under the surface, but it's the demonic curse that propels the action... Oates casts a powerful spell. You'll close The Accursed and want to start it all over again."
— People (4 Stars)

"The Accursed is a unique, vast multilayered narrative; a genre bending beast of a book, utterly startling from start to finish, compulsive and engaging, the writing crackling with energy and wit. This is an elaborately conceived work."
— New York Review of Books

"[The Accursed] is in addition to being a thrilling tale in the best gothic tradition, a lesson in master craftsmanship...The story sprawls, reaches, demands, tears, and shrieks in homage to the traditional gothic, yet with fresh, surprising twists and turns... Oates has given us a brilliantly crafted work ."
— Publishers Weekly (starred review)

"Carefully and densely plotted, chockablock with twists and turns and fleeting characters, her novel offers a satisfying modern rejoinder to the best of M.R. James—and perhaps even Henry James."
— Kirkus Reviews (starred review)

"Oates' atmospheric prose beautifully captures the flavor of gothic fiction . . . In Oates' hands, this supernatural tale becomes a meditation on the perils of parochial thinking. It demands we think - with monsters - about our failure to face the darkest truths about ourselves and the choices we've made."
— NPR

"A lush, arch, and blistering fusion of historical fact, supernatural mystery, and devilish social commentary... A diabolically enthralling and subversive literary mash-up. "
— Booklist (starred review)

"A smart and relentlessly absorbing read."
— Library Journal

"Joyce Carol Oates is at her gothic best… an astonishing fever dream of a novel."
— Los Angeles Times

"For those who enjoy total immersion in this kind of historical fiction, The Accursed is good fun, as mesmerizing as a demon and as addictive as a patent cure."
— Boston Globe

"A fascinating novel in which historical truth and imagination collide to create an unsettling vision of America as it entered the 20th century."
— Columbus Dispatch

"The Accursed blends history, horror, fantasy and black comedy into a trippy literary brew. For fans of Oates' gothic works, this is a heady draught indeed."
— Dallas Morning News

"Regular readers of Oates will be familiar with the game. . . after [new readers make] their way through The Accursed, no one will find it easy to forget."
— St. Louis Post-Dispatch

"Joyce Carol Oates is at the top of her game in her glorious new novel, THE ACCURSED - a long, lush account of perhaps-preternatural happenings in Princeton, N.J., a century ago."
— Buffalo News

"This latest effort looks like a belated candidate for the Great Oates Novel . . . The Accursed is a big, mad, colourful romp, respectful of the literary traditions in which it participates, leavened with a piquant humour."
— Financial Times

"The Accursed is very much in the American gothic tradition of Charles Brockden Brown, Hawthorne, Poe, and Faulkner."
— New York Review of Books

"In this new novel Oates has achieved a nearly flawless combination of postmodernism, gothic horror, "traditional" narrative, politically engaged literature, historical novel, and popular bestseller—a heady and enjoyable mix."
— Harvard Review Online
HarperLuxe, 9780062233011, 1056pp.
Publication Date: March 5, 2013
About the Author
Joyce Carol Oates is a recipient of the National Medal of Humanities, the National Book Critics Circle Ivan Sandrof Lifetime Achievement Award, the National Book Award, and the 2019 Jerusalem Prize, and has been several times nominated for the Pulitzer Prize. She has written some of the most enduring fiction of our time, including the national bestsellers We Were the Mulvaneys; Blonde, which was nominated for the National Book Award; and the New York Times bestseller The Falls, which won the 2005 Prix Femina. She is the Roger S. Berlind Distinguished Professor of the Humanities at Princeton University and has been a member of the American Academy of Arts and Letters since 1978.