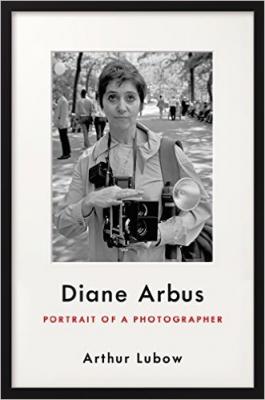 Diane Arbus
Portrait of a Photographer
Hardcover

* Individual store prices may vary.
Other Editions of This Title:
Digital Audiobook (9/20/2016)
Paperback (3/14/2017)
MP3 CD (9/21/2016)
Compact Disc (9/21/2016)
Description
The definitive biography of the beguiling Diane Arbus, one of the most influential and important photographers of the twentieth century, a brilliant and absorbing exposition that links the extraordinary arc of her life to her iconic photographs
Diane Arbus: Portrait of a Photographer brings into focus with vividness and immediacy one of the great American artists of the twentieth century. Arbus comes startlingly to life on these pages, a strong-minded child of disconcerting originality who grew into a formidable photographer of unflinching courage. Arbus forged an intimacy with her subjects that has inspired generations of artists. Arresting, unsettling, and poignant, her photographs stick in our minds. Why did these people fascinate her? And what was it about her that captivated them?
It is impossible to understand the transfixing power of Arbus's photographs without exploring her life. Lubow draws on exclusive interviews with Arbus's friends, lovers, and colleagues; on previously unknown letters; and on his own profound critical insights into photography to explore Arbus's unique perspective and to reveal important aspects of her life that were previously unknown or unsubstantiated. He deftly traces Arbus's development from a wealthy, sexually precocious free spirit into first, a successful New York fashion photographer and then, a singular artist who coaxed secrets from her subjects. Lubow reveals that Arbus's profound need not only to see her subjects but to be seen by them drove her to forge unusually close bonds with these people, helping her discover the fantasies, pain, and heroism within each of them, and leading her to create a new kind of photographic portraiture charged with an unnerving complicity between the subject and the viewer.
Diane Arbus: Portrait of a Photographer brushes aside the clichés that have long surrounded Arbus and her work. It is a magnificently absorbing biography of this unique, hugely influential artist.
Praise For Diane Arbus: Portrait of a Photographer…
"With vivid details and acute insights, Arthur Lubow, an exceptionally talented writer, has brought to life a unique and enduring artist. Through her camera, Diane Arbus gave us an enlarged view of human nature. This book shows who she was and how she did it." — Gay Talese
"Arbus...took the time to establish a genuine bond with her subjects so that her photographs, while bold and unsparing, were also deeply sympathetic. Arthur Lubow has approached Arbus in much the same spirit, and the result is a perceptive, engaging, and profoundly moving portrait." — John Berendt
"The author produces a thorough, sympathetic portrait of a complicated woman who, from childhood on, stood out as 'totally original.' . . . Lubow sharply captures Arbus' restlessness, pain, and artistic vision." — Kirkus Reviews (starred review)
"In a fast-moving narrative style that reads like an eyewitness account, Lubow gets inside both the person and the persona. This book both analyzes and contributes to the notoriety and fascination with one of the most complicated figures in the history of photography." — Jeff Wall
"Lubow turned a routine magazine assignment for the New York Times into the defining biography of photographer Diane Arbus . . . Lubow provides not only a comprehensive assessment of her groundbreaking work but, perhaps more significantly, a revealing documentary of Arbus's often-tortured life." — Publishers Weekly (starred review)
"Lubow's portrait is the most sharply focused, encompassing, and incisive to date." — Booklist
"Lubow is entering a crowded arena, for the Arbus industry is hardly a place of repose. Yet the author fights for his spot, and earns it. His research is unflagging and his timing is good." — The New Yorker
"Enormously satisfying. . . This compelling book shows an Arbus that is as mysterious as her best photographs. Like them, she tells us something about ourselves that is vital, but that we may not always want to see." — Nickolas Butler, internationally bestselling author of Shotgun Lovesongs and The Hearts of Men
"Big, sharply focused, disturbingly intimate...Lubow chronicles Arbus's rise and fall with a novelistic intensity that plumbs the decisive moments of a driven, unsettled soul...A major work." — USA Today
"Arthur Lubow's compelling new biography about the revolutionary photographer Diane Arbus brilliantly demonstrates how the emotionally fragile state of an artist can be channeled into something wondrous. . . . Superbly crafted. . . . Lubow is a talented and sensitive writer." — The Washington Post
"The book reads more like a novel-salacious, mysterious . . . and harrowing." — New York Times Book Review
"Epic, sympathetic, but unsparing." — New York magazine
"A stellar new biography. . . . ruthlessly researched and beautifully written." — Philadelphia Inquirer
Ecco, 9780062234322, 752pp.
Publication Date: June 7, 2016
About the Author
Arthur Lubow has been a contributing writer at The New York Times Magazine, a staff writer at The New Yorker, and a contributing editor at Vanity Fair. He received a Dorothy and Lewis B. Cullman fellowship, a National Endowment for the Humanities fellowship, and a James Beard Award, and is a fellow of the New York Institute for the Humanities.
or
Not Currently Available for Direct Purchase