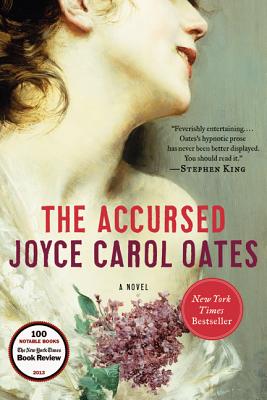 The Accursed (Paperback)
Ecco Press, 9780062234353, 704pp.
Publication Date: November 26, 2013
Description
Princeton, New Jersey, at the turn of the twentieth century: a genteel town for genteel souls. But something dark and dangerous lurks at its edges, corrupting and infecting its residents. Vampires and ghosts haunt the dreams of the innocent and a powerful curse besets the families of the elite-their daughters begin disappearing. And in the Pine Barrens that border the town, a lush and terrifying underworld opens up.
When a shape-shifting, vaguely European prince, who might just be the devil, abducts a young bride on the verge of the altar, her brother sets out against all odds to find her. His path will cross those of Princeton's most formidable people, including Grover Cleveland, fresh out of his second term in the White House, soon-to-be commander in chief Woodrow Wilson, a complex individual obsessed to the point of madness with his need to retain power, the young idealist Upton Sinclair and his charismatic comrade Jack London, and the most famous writer of the era, Mark Twain-all of whom are plagued by "accursed" visions.
Advertisement