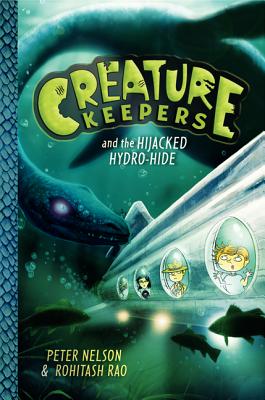 Creature Keepers and the Hijacked Hydro-Hide (Hardcover)
Balzer + Bray, 9780062236432, 384pp.
Publication Date: September 16, 2014
* Individual store prices may vary.
Description
For kids who love the Origami Yoda and Zombie Chasers series comes the first book in an epically hilarious, fully illustrated middle grade adventure series, starring some of history's best-known mythical beasts, from the dynamic creators of Herbert's Wormhole.
Twelve-year-old Jordan Grimsley has moved with his family into an old, abandoned house in Florida that belonged to his long-lost grandfather. While clearing stuff out of the attic, Jordan finds a scrapbook filled with old news clippings about local sightings of the mythological South Florida Skunk Ape. Determined to learn more, he persuades Eldon Pecone, the only other kid for miles, to come along on an excursion into the swamp, where many of the sightings occurred.
This is when Jordan makes a startling discovery: not only is the Skunk Ape real, but Eldon is an elite member of a secret society of Creature Keepers—humans assigned to protect a variety of mythical beasts. And when they discover that the Loch Ness Monster has gone missing, it kick-starts a fast-paced, funny, and totally original race across the globe to restore order and balance to the world.
About the Author
Peter Nelson is a screenwriter who lives in Los Angeles, California, with his wife, Diane, and their two sons, Charlie and Christopher. Herbert's Wormhole was Peter's First children's book. He wrote it without ever having met an actual alien or traveling through time, which made it a bit more challenging, but just as fun.
Rohitash Rao was born in an exotic, faraway land called Hyderabad, India. He then grew up in another exotic, faraway land called Rancho Cucamonga, California. He now lives in a magical city on an island called Manhattan, where he works as an animator and director. Herbert's Wormhole was Rao's First children's book, much of which he illustrated while sitting on a broken stool in his apartment.
or
Not Currently Available for Direct Purchase