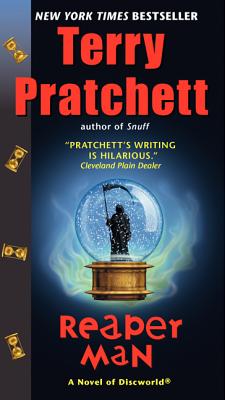 Reaper Man
A Novel of Discworld
Mass Market

* Individual store prices may vary.
Other Editions of This Title:
Analog Audio Cassette (4/25/2001)
MP3 CD (11/1/2008)
Compact Disc (1/1/2003)
Mass Market Paperbound (7/30/2002)
Hardcover (11/1/2013)
Description
They say there are only two things you can count on. But that was before Death started pondering the existential. Of course,the last thing anyone needs is a squeamish Grim Reaper and soon his Discworld bosses have sent him off with best wishes anda well-earned gold watch. Now Deathis having the time of his life, findinggreener pastures where he can put hisscythe to a whole new use.
But like every cutback in an importantpublic service, Death's demise soon leads to chaos and unrest—literally, for those whose time was supposed to be up, like Windle Poons. The oldest geezer in the entire faculty of Unseen University—home of magic, wizardry, and big dinners—Windle was looking forward to a wonderful afterlife,not this boring been-there-done-that routine. To get the fresh start he deserves,Windle and the rest of Ankh-Morpork's undead and underemployed set off to find Death and save the world for the living(and everybody else, of course).
Harper, 9780062237354, 352pp.
Publication Date: July 30, 2013
About the Author
Sir Terry Pratchett was the internationally bestselling author of more than thirty books, including his phenomenally successful Discworld series. His young adult novel, The Amazing Maurice and His Educated Rodents, won the Carnegie Medal, and Where's My Cow?, his Discworld book for "readers of all ages," was a New York Times bestseller. His novels have sold more than seventy five million (give or take a few million) copies worldwide. Named an Officer of the British Empire "for services to literature," Pratchett lived in England. He died in 2015 at the age of sixty-six.