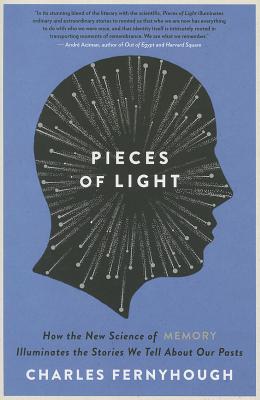 Pieces of Light (Paperback)
How the New Science of Memory Illuminates the Stories We Tell About Our Pasts
Harper Perennial, 9780062237903, 320pp.
Publication Date: January 7, 2014
* Individual store prices may vary.
Description
Shortlisted for the 2013 Royal Society Winton Prize for Science Books
Leading psychologist Charles Fernyhough blends the most current science with literature and personal stories in Pieces of Light: How the New Science of Memory Illuminates the Stories We Tell About Our Pasts.
A new consensus is emerging among cognitive scientists: rather than possessing fixed, unchanging memories, they have found that we create recollections anew each time we are called upon to remember. According to psychologist Charles Fernyhough, remembering is an act of narrative imagination as much as it is the product of a neurological process.
An NPR and Psychology Today contributor, Dr. Fernyhough guides readers through the fascinating new science of autobiographical memory, covering topics such as: navigation, imagination, and the power of sense associations to cue remembering. Exquisitely written and meticulously researched, Pieces of Light brings together science and literature, the ordinary and the extraordinary, to help us better understand our powers of recall and our relationship with the past.
About the Author
Charles Fernyhough is an award-winning writer and psychologist. His books include A Thousand Days of Wonder: A Scientist's Chronicle of His Daughter's Developing Mind and the novels The Auctioneer and A Box of Birds. He has written for the Guardian, the Financial Times, and the Sunday Telegraph; contributes to NPR's Radiolab; blogs for Psychology Today; and is a professor of psychology at Durham University in the United Kingdom.
Praise For Pieces of Light: How the New Science of Memory Illuminates the Stories We Tell About Our Pasts…
"A multidisciplinary approach to explaining memory. . . . Will be intriguing for readers interested in the borderlands where memoir, fiction and science overlap."
— Kirkus Reviews

"His examination [is] welcoming and accessible to lay readers. His analysis is wide-ranging . . . He also covers a wide swath of literary and historical ground . . . A refreshingly social take on an intensely personal experience."
— Publishers Weekly

"A thoughtful study of how we make sense of ourselves."
— Nature

"Fernyhough is a gifted writer who can turn any experience into lively prose. . . . The stories in Pieces of Light . . . will entertain anyone who reads them."
— Financial Times

"Pieces of Light is utterly fascinating and superbly written. I learned more about memory from this book than any other. There are few science books around of this class.
— The Guardian

"Outstanding. . . . Fernyhough's skills as a writer are evident both in the beautiful prose and in the way he uses literature to illustrate his argument . . . He draws on both science and art to marvelous effect."
— Observer (UK)

"A beautifully written, absorbing read -- a fascinating journey through the latest science of memory."
— Elizabeth Loftus, Distinguished Professor, University of California, Irvine

"Both playful and profound, a wonderfully memorable read."
— Douwe Draaisma, author of Why Life Speeds Up As You Get Older

"Fernyhough weaves literature and science to expose our rich, beautiful relationship with our past and future selves."
— Dr. David Eagleman, Neuroscientist and author of Incognito: The Secret Lives of the Brain

"Combining the engaging style of a novelist with the rigour of a scientist. . . . Pieces of Light will both linger in your memory and change the way you think about it."
— Daniel L. Schacter, Professor of Psychology, Harvard University, and author of The Seven Sins of Memory: How the Mind Forgets and Remembers

"Fernyhough takes us on a captivating journey into the mind. And he does so with great style."
— Telegraph

"A sophisticated blend of findings from science, ideas from literature and examples from personal narratives. . . . Refreshing, well judged and at times moving."
— Times Higher Education

"An immense pleasure, as Fernyhough casts the emerging science of memory through the lens of his own recollections. . . . Remains restrained and lyrical throughout."
— New Scientist

"A fascinating snapshot of where our thinking stands on the subject."
— Independent

"In its stunning blend of the literary with the scientific, Pieces of Light illuminates ordinary and extraordinary stories to remind us that who we are now has everything to do with who we were once, and that identity itself is intricately rooted the transporting moments of remembrance."
— André Aciman, author of Out of Egypt and Harvard Square

"[A] thoughtful exploration of recent memory research. . . . Fernyhough, who writes fiction as well as psychological studies, is a deft guide to discoveries that have led memory researchers to stress the centrality of storytelling."
— Booklist

"Remarkable storytelling skills. . . . Seamlessly intersperses the personal aspects of [his] journey with descriptions of cutting-edge research into spatial naviation and memory manipulation, as well as new ideas about how memory works."
— Moheb Costandi, Scientific American MIND Moheb Costandi, Scientific American MIND Moheb Costandi, Scientific American MIND

"As absorbing as it is thought-provoking."
— Sunday Business Post

"Exhilarating… Most strikingly Fernyhough breaks free from the 'silo mentality' separating science and art… makes a compelling case that memory 'allows us to "see" time', something of what happened then and of who we are today, albeit through what he delightfully calls its 'slippery charms'."
— Times Literary Supplement