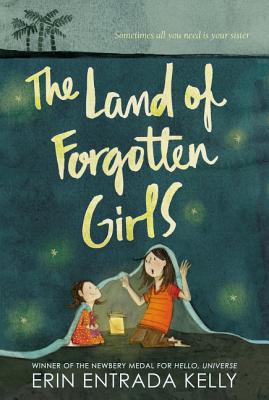 The Land of Forgotten Girls (Paperback)
Greenwillow Books, 9780062238658, 320pp.
Publication Date: February 14, 2017
Other Editions of This Title:
Digital Audiobook (2/29/2016)
Hardcover (3/1/2016)
Compact Disc (3/1/2016)
Compact Disc (3/1/2016)
* Individual store prices may vary.
Description
In this acclaimed novel from Newbery Medalist Erin Entrada Kelly, two sisters from the Philippines, abandoned by their father and living in impoverished circumstances in Louisiana, fight to make their lives better.
School Library Journal called The Land of Forgotten Girls "A charming and affecting novel about sisterhood, the magic of imagination, and perseverance." For readers of Pam Muñoz Ryan, Rita Williams-Garcia, and anyone searching for the true meaning of family. Winner of a Parents' Choice Gold Award.
Soledad has always been able to escape into the stories she creates. Just like her mother always could. And Soledad has needed that escape more than ever in the five years since her mother and sister died, and her father moved Sol and her youngest sister from the Philippines to Louisiana. After her father leaves, all Sol and Ming have is their evil stepmother, Vea. Sol has protected Ming all this time, but then Ming begins to believe that Auntie Jove—their mythical, world-traveling aunt—is really going to come rescue them. Can Sol protect Ming from this impossible hope?
Acclaimed and award-winning author Erin Entrada Kelly writes masterfully about the challenges of finding hope in impossible circumstances, in this novel that will appeal to fans of Cynthia Kadohata and Thanhha Lai.
Booklist said, "Kelly's sophomore novel is both hopeful and heartfelt, but strong emotions are only part of the successful equation here. Told in Sol's true voice, the direct dialogue brings the diverse characters to vivid life."
About the Author
New York Times–bestselling author Erin Entrada Kelly was awarded the Newbery Medal for Hello, Universe. She grew up in Lake Charles, Louisiana, and now lives in Philadelphia, Pennsylvania, where she earned an MFA from Rosemont College. Her short fiction has been nominated for the Philippines Free Press Literary Award for Short Fiction and the Pushcart Prize. Erin Entrada Kelly's debut novel, Blackbird Fly, was a Kirkus Best Book, a School Library Journal Best Book, an ALSC Notable Book, and an Asian/Pacific American Honor Book. She is also the author of The Land of Forgotten Girls, winner of the Asian/Pacific American Award for Literature, and You Go First, a Spring 2018 Indie Next Pick. The author's mother was the first in her family to immigrate to the United States from the Philippines and she now lives in Cebu.
Praise For The Land of Forgotten Girls…
"[An] enchanting plot propelled by delightful narration. This book will appeal to a broad array of readers, as it has a little bit of everything-fantasy, realism, sisterhood, friendship, suspense, and humor. A charming and affecting novel about sisterhood, the magic of imagination, and perseverance."
— School Library Journal (starred review)

"Kelly's sophomore novel is both hopeful and heartfelt, but strong emotions are only part of the successful equation here. Told in Sol's true voice, the direct dialogue brings the diverse characters to vivid life."
— Booklist (starred review)

"Kelly deftly captures the tumultuous emotions of a preteen who is forced to grow up faster than other girls her age."
— Kirkus Reviews

"Sisterhood, friendship, truth, hope: these are the themes that lift The Land of Forgotten Girls… into the realm of the truly special. …Readers who feel marginalized or alone in their troubles-and who doesn't at times?-will adore Sol and her ragtag family, both chosen and real.'"
— Shelf Awareness

"Kelly balances the bleak and the beautiful in a novel about the multilayered bond between sisters…Kelly's strong heroine offers hope in the face of loss."
— Publishers Weekly

"This stirring and original story ends on a credibly hopeful note while remaining firmly rooted in reality, and readers who have embraced Sol will be cautiously optimistic for her future. …Sol's central struggles are gripping. Fans of Rita Williams-Garcia's family…may particularly enjoy spending time with Sol."
— Bulletin of the Center for Children's Books

"This story addresses the importance of family, especially sisterhood, diversity in friendships, the gift of forgiveness, perseverance through difficult circumstances, and the need for hope.…Erin Entrada Kelly is a formidable middle grade author."
— Litstack

Praise for Blackbird Fly: "Each character in Kelly's debut novel . . . is portrayed with remarkable authenticity. The awkwardness and intense feelings inherent to middle school are palpable. Children's literature has been waiting for Apple Yengko—a strong, Asian-American girl whose ethnic identity simultaneously complicates and enriches her life."
— Kirkus Reviews (starred review)

"Will resonate with any student in middle school who has felt different and ostracized. The author has skillfully captured the various characters that populate Apple's . . . school."
— School Library Journal (starred review)

"[A] delightful debut . . . Through her love of music . . . Apple starts to soar like the eponymous blackbird of her favorite Beatles song."
— Los Angeles Times Book Review

"A smart, sensitive, and resilient heroine who is authentic and relatable in her strengths and imperfections. This poignant novel would make for a particularly fine readaloud; expect visceral reactions . . . This is a must-read for those kids cringing at their own identities."
— Bulletin of the Center for Children's Books

"Writing with acute sensitivity and sometimes painful realism, debut novelist Kelly skillfully captures the betrayals, tentative first crushes, and fluctuating emotions of middle school ... a true triumph."
— Publishers Weekly (starred review)

"Kelly has written another beautiful story which will appeal to readers of all ages. ...The story is one of love and courage in the face of adversity, sisterly bonds, and the realization that family can be formed in many different ways."
— Catholic Library World