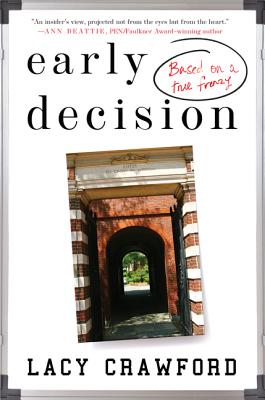 Early Decision
Based on a True Frenzy
Hardcover

* Individual store prices may vary.
Other Editions of This Title:
Digital Audiobook (8/26/2013)
Paperback (8/26/2014)
Description
"...part Gossip Girl, part Dead Poets Society, and entirely addictive! A brilliant, satirical peek at the families of privilege behind the Ivy Curtain, this book made me laugh out loud." —Kevin Kwan, New York Times bestselling author of the Crazy Rich Asians trilogy
In the decades before she was able to tell her own story, Lacy Crawford (author of Notes on a Silencing) worked with high school seniors trying to learn to tell theirs in the 15 years she spent as a highly sought-after private college counselor. The college essay could be a terribly nerve-wracking assignment—or, as Crawford saw it, an opportunity for a young person to set their sights on a future of their own—as Crawford illuminates in her debut novel Early Decision.

Working one-on-one with helicopter parents and burned-out kids, Anne "the application whisperer" can make Harvard, Princeton, and Stanford a reality—assuming, of course, that's what a student wants. Early Decision follows five students over one autumn as Anne helps them craft their essays, cram for the SATs, and perfect the Common Application, though their larger task might be balancing their parents' hopes against their own developing dreams.

It seems their entire future is on the line—and it is. Though not because of the Ivy League. It's because the process, warped as it is by money, connections, competition, and parental mania, threatens to crush their independence just as adulthood begins. 
With wit and heart, Early Decision sends up the secrets of the college admissions race and celebrates the adolescents forced to run its gauntlet.
"I nearly cried with laughter over how true to my experience this book is. Lacy Crawford is spot-on in her portrayal of the anxiety, hilarity, and pathos inherent to the college application process." —Anonymous, SAT Tutor, Veritas
Praise For Early Decision: Based on a True Frenzy…
"Overbearing moms and dads scheming to secure their kid a place at Harvard will find it more helpful than any nonfiction book on the market... everyone else can enjoy Early Decision for what it is: a sweetly sharp modern-day comedy of manners about the brutally competitive college-admissions ordeal." — Entertainment Weekly
"Here's an engrossing novel that no parent of college-bound teens will be able to resist...Crawford nails the anxiety of a selection process gone crazy and counsels parents to do the hardest thing of all: back off." — People
"By focusing on the essay-writing process, Crawford explores how we find our own stories—and suggests that a successful campaign depends on revision." — Chicago Tribune, Editor's Choice Book
"This entertaining tale of upper class parents and adolescent learning curves points a keen eye at the college application process... with the right support, those students find their way despite themselves. Sprinkled with tips for writers, essays in various forms of rewrite, and a very satisfying twist at the end." — Publishers Weekly
"At times hilarious, at times soul-crushingly sad, and unfailingly astute and well-written, Early Decision will leave you super-satisfied." — Redbook.com, October Book of the Month
"Savvy...the hearts of the students beat a true, steady rhythm throughout the novel." — Booklist
How did we go from regular old college admissions to seven 'early action' applications and 11 personal essays? Former private college counselor Lacy Crawford, author of 'Early Decision,' breaks down the craziness… — The Daily Beast
"A book that should get some serious discussions going. Like other dramas, it's sometimes a comedy... an insider's view, projected not from the eyes but from the heart." — Ann Beattie
"Early Decision is part Gossip Girl, part Dead Poets Society, and entirely addictive! A brilliant, satirical peek at the families of privilege behind the Ivy Curtain, this book made me laugh out loud." — KEVIN KWAN, BESTSELLING AUTHOR OF CRAZY RICH ASIANS.
"this novel about kids caught up in the admissions rat race is wise and completely engrossing." — People
William Morrow, 9780062240613, 304pp.
Publication Date: August 27, 2013
About the Author
Before she found the way to tell her own story in the memoir Notes on a Silencing, Lacy Crawford spent years helping other high schoolers tell theirs in her debut novel Early Decision, inspired by her work. For fifteen years, Crawford served as a highly discreet independent college admissions counselor to the children of powerful clients in cities such as New York, Chicago, Denver, San Francisco, Los Angeles, and London. Her "day jobs" included serving as senior editor of Narrative magazine and director of the Burberry Foundation. Educated at Princeton and the University of Chicago, Crawford lives in California with her husband and two children.
Book Videos
or
Not Currently Available for Direct Purchase