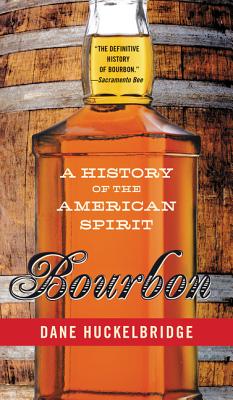 Bourbon
A History of the American Spirit
Paperback

* Individual store prices may vary.
Other Editions of This Title:
Hardcover (4/1/2014)
Description
"THE DEFINITIVE HISTORY OF BOURBON."—Sacramento Bee
A Southern Independent Booksellers Alliance Bestseller
A ROLLICKING BIOGRAPHY OF BOURBON WHISKEY THAT DOUBLES AS "A COMPLEX AND ENTERTAINING" (WALL STREET JOURNAL) HISTORY OF AMERICA ITSELF
Few products are so completely or intimately steeped in the American story as bourbon whiskey. As Dane Huckelbridge's masterfully crafted history reveals, the iconic amber spirit is the American experience, distilled, aged, and sealed in a bottle.
Praise For Bourbon: A History of the American Spirit…
"[A] raucously entertaining history. ... Drink deeply from Huckelbridge's free-flowing stories, and you'll soon be besotted with the honeyed history of bourbon."
— Publishers Weekly

"A mirthful, erudite appreciation of bourbon and its striking history. …. [An] entertaining tour d'horizon of bourbon's birth and long, healthy life. … Huckelbridge knows his bourbon. … A snappy history of the popular spirit's rise and continued ascent."
— Kirkus Reviews

"A wonderfully entertaining look at American history as seen through the lens of Kentucky's famous brown water. A must read."
— BILL SAMUELS, JR., President Emeritus of Maker's Mark Distillery and 4th generation Kentucky bourbon maker

"Made from New World corn and Old World techniques, Bourbon is the American Spirit. Dane Hucklebridge takes readers on an intoxicating romp through the history of bourbon from its humble colonial origins to its craft-driven current revival."
— EDWARD J. LARSON, Winner of the Pulitzer Prize for History

"A witty and informative account of America's much-loved national beverage. Dane Huckelbridge is the sage of sour-mash."
— JOHN BAXTER, author of The Perfect Meal: In Search of the Lost Tastes of France and The Most Beautiful Walk in the World

"Pour three fingers, crack open Dane Huckelbridge's Bourbon, and prepare to be taken along on a strange tale of moonshiners, gun-slingers, hair-metal bands, and Brooklyn hipsters. The results: smooth."
— PAGAN KENNEDY, New York Times Magazine columnist

"Refreshingly entertaining. ... Tells our nation's entire tale with a big splash of Kentucky's finest. You'll learn a f*ckload about the Pilgrims, the Founding Fathers, the Civil War, the Wild West and beyond, and you'll actually enjoy it."
— MTV.com

"Informative. ... What part hasn't bourbon played in American history? And what does that corn-based spirit say about this country's character? Huckelbridge has done a well-researched but laid-back job answering.
— Memphis Flyer

"Sure, you might have enjoyed a sip of bourbon before. Possibly on Bourbon Street. While eating a bourbon-glazed pork chop and wearing bourbon-scented aftershave. But until you read this 288-page historical treatise on the amber nectar, you'll never know the whole story."
— UrbanDaddy

"An engrossing song to America through an alcoholic beverage."
— Washington Post

"Let's raise a glass to Dan Huckelbridge for putting together the definitive history of bourbon, the penultimate American whiskey."
— Sacramento Bee

"Bourbon would be a delightful companion to take along on a trip to... the great Kentucky distilleries."
— Cleveland.com

"Although Bourbon is most certainly a history book, you won't even realize [it]. That's because Dane Huckelbridge brings bourbon to life with the sort of witty, character-rich zeal AMC writers might employ if they took over the History Channel."
— Toledo Blade

Bourbon the book, like bourbon the drink, has a special spirit. ... Lighthearted, friendly, easy to take and enjoy. ... Try it; you'll like it."
— Lincoln Journal Star
William Morrow Paperbacks, 9780062241405, 288pp.
Publication Date: April 21, 2015
About the Author
Dane Huckelbridge has written for the Wall Street Journal, Tin House, The New Republic, and New Delta Review. He is the author of Bourbon: A History of the American Spirit; The United States of Beer: The True Tale of How Beer Conquered America, From B.C. to Budweiser and Beyond; and a novel, Castle of Water, which has been optioned for film. A graduate of Princeton University, he lives in Paris.
or
Not Currently Available for Direct Purchase