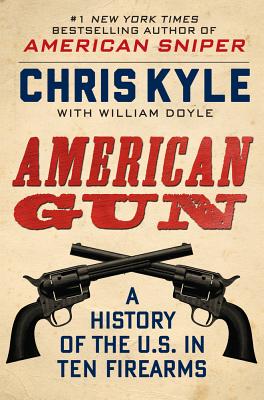 American Gun
A History of the U.S. in Ten Firearms
Hardcover

* Individual store prices may vary.
Other Editions of This Title:
Digital Audiobook (6/3/2013)
Paperback (5/27/2014)
Compact Disc (6/4/2013)
Paperback, Large Print (7/2/2013)
CD-Audio (6/3/2014)
Description
THE NEW YORK TIMES BESTSELLING FOLLOW-UP TO AMERICAN SNIPER
Join Chris Kyle on a journedy to discover "how 10 firearms changed United States history" (New York Times Book Review)
Drawing on his legendary firearms knowledge and combat experience, U.S. Navy SEAL and #1 bestselling author of American Sniper Chris Kyle dramatically chronicles the story of America—from the Revolution to the present—through the lens of ten iconic guns and the remarkable heroes who used them to shape history: the American long rifle, Spencer repeater, Colt .45 revolver, Winchester 1873 rifle, Springfield M1903 rifle, M1911 pistol, Thompson submachine gun, M1 Garand, .38 Special police revolver, and the M16 rifle platform Kyle himself used. American Gun is a sweeping epic of bravery, adventure, invention, and sacrifice.
Featuring a foreword and afterword by Taya Kyle and illustrated with more than 100 photographs, this new paperback edition features a bonus chapter, "The Eleventh Gun," on shotguns, derringers, and the Browning M2 machine gun.
Praise For American Gun: A History of the U.S. in Ten Firearms…
"Chris Kyle embodied what it meant to have a heart both strong and soft, and a commitment to country, family, and God. ... Kyle will continue to inspire anyone paying attention to his example."
— Dallas Morning News

"Chris Kyle was incredible, the most celebrated war hero of our time, a true American hero in every sense of the word."
— D Magazine

"A true hero."
— New York Times

"Chris Kyle has done and seen things that will be talked about for generations to come."
— MARCUS LUTTRELL, recipient of the Navy Cross and author of Lone Survivor

"A celebration of Kyle's voice and life: It's like sitting down with him in some funky Texas roadhouse just off the interstate after a hot but fulfilling day at the range, ordering up a tableful of Lone Stars and just talking guns for a few hours."
— USA Today

"Tells how 10 firearms changed United States history."
— New York Times Book Review

"Kyle's enthusiasm for his subject is infectious, and his gift for narrative lends the stories the tension and drama they deserve. ... Regardless of one's views on guns, readers will gain a deeper respect for weaponry and the people tasked with using them."
— Publishers Weekly (starred review)

"Kyle's firm grasp of the ten guns selected is combined with a narrative of American soldiers, lawmen, and citizens who used them. ... When you read American Gun you hear the voice, heart, wit, and passion of this self-effacing American hero--one taken from us too soon."
— Mark Keefe, American Rifleman

"Chris Kyle knew guns in a way no modern American ever has. ... His book new book details the rifles and pistols wielded by soldiers, police officers, hunters, mobsters and outlaws that most influenced the culture of this nation."
— Daily Mail (London)

"A book that every American should read, and it will stand as part of the legacy of one of our nation's greatest heroes."
— American Rifleman

A fitting legacy for Chris Kyle. … American Gun is written with the authority of a subject matter expert and the straight-talking voice of a warrior."
— SOFREP.com

"An entertaining gallop through history."
— London Times
William Morrow, 9780062242716, 320pp.
Publication Date: June 4, 2013
About the Author
SEAL Team 3 Chief Chris Kyle (1974–2013) was awarded two Silver Stars, five Bronze Stars with Valor, and numerous other citations. Following four combat tours in Iraq, he became chief instructor for training Naval Special Warfare sniper teams. He is the author of American Gun: A History of the U.S. in Ten Firearms. A native Texan, Kyle is survived by his wife, Taya, and their two children.
William Doyle has written or cowritten seven books, including PT 109: An American Epic of War, Survival, and the Destiny of John F. Kennedy and American Gun: A History of the U.S. in Ten Firearms (with "American Sniper" Chris Kyle). He served as director of original programming for HBO and was coproducer of the PBS special Navy SEALs: Their Untold Story. He lives with his family in New York City.
Book Videos
or
Not Currently Available for Direct Purchase