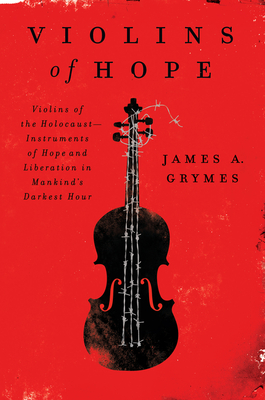 Violins of Hope
Violins of the Holocaust--Instruments of Hope and Liberation in Mankind's Darkest Hour
Paperback

* Individual store prices may vary.
Description
A stirring testament to the strength of the human spirit and the power of music, Violins of Hope tells the remarkable stories of violins played by Jewish musicians during the Holocaust, and the Israeli violin maker dedicated to bringing these inspirational instruments back to life.
The violin has formed an important aspect of Jewish culture for centuries, both as a popular instrument with classical Jewish musicians—Jascha Heifetz, Yehudi Menuhin, Itzhak Perlman—and also a central factor of social life as part of the enduring Klezmer tradition. But during the Holocaust, the violin assumed extraordinary new roles within the Jewish community. For some musicians, the instrument was a liberator; for others, it was a savior that spared their lives. For many, the violin provided comfort in mankind's darkest hour, and, in at least one case, helped avenge murdered family members. Above all, the violins of the Holocaust represented strength and optimism for the future.
In Violins of Hope, music historian James A. Grymes tells the amazing, horrifying, and inspiring story of the violins of the Holocaust, and of Amnon Weinstein, the renowned Israeli violinmaker who has devoted the past twenty years to restoring these instruments in tribute to those who were lost, including 400 members of his own family. Juxtaposing tales of individual violins with one man's harrowing struggle to reconcile his own family's history and the history of his people, it is a poignant, affecting, and ultimately uplifting look at the Holocaust and its enduring impact.
Praise For Violins of Hope: Violins of the Holocaust--Instruments of Hope and Liberation in Mankind's Darkest Hour…
"Grymes traces the beautiful and haunting history of violins played by Jews in the Holocaust. …. The accounts are unembellished, with plain, yarn-spinning language. They breathe new life into history." — Publishers Weekly
"Violins of Hope is a work of research and scholarship that forms one of the most moving chronicles in the history of Western music. James A. Grymes has earned our plaudits and praise, and deserves our everlasting gratitude." — John Williams, Oscar-winning composer of the score for Schindler's List
"The cruelties of the Third Reich have been well-documented in countless Holocaust studies. This report contemplates the crimes of the Nazis from a special point of view. A special Holocaust study of the unique link that violins, klezmer or classical, have continuously had with the Jewish spirit." — Kirkus Reviews
"When you think of 'music history,' you probably think of something dry, cold, and unemotional. Music historian James A. Grymes will change your mind with his book, which focuses on violins during the time of the Holocaust, and how they inspired comfort, hope, and perseverance." — Westchester Magazine
Harper Perennial, 9780062246837, 336pp.
Publication Date: August 12, 2014
About the Author
James A. Grymes is an internationally respected musicologist and a critically acclaimed author. He is a professor of musicology at the University of North Carolina-Charlotte.