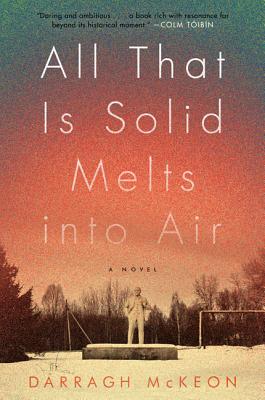 All That Is Solid Melts into Air
A Novel
Paperback

* Individual store prices may vary.
Other Editions of This Title:
Digital Audiobook (4/28/2014)
Digital Audiobook (3/5/2014)
Compact Disc (4/29/2014)
Compact Disc (4/29/2014)
Description
All That Is Solid Melts into Air is a gripping end-of-empire novel, charting the collapse of the Soviet Union through the focalpoint of the Chernobyl disaster. Part historical epic, part love story, it recalls The English Patient in its mix of emotional intimacy and sweeping landscape.
In a run-down apartment block in Moscow, a nine-year-old piano prodigy practices silently for fear of disturbing the neighbors.
In a factory on the outskirts of the city, his aunt makes car parts, trying to hide her dissident past.
In the hospital, a leading surgeon buries himself deep in his work to avoid facing his failed marriage.
And in a rural village in the Ukraine, a teenage boy wakes up to a sky of the deepest crimson. In the fields, the ears of the cattle are dripping blood. Ten miles away, at the Chernobyl Power Plant, something unimaginable has happened.
Now their lives will change forever.
All That Is Solid Melts Into Air is an astonishing end-of-empire novel by a major new talent.
Praise For All That Is Solid Melts into Air: A Novel…
"A startling achievement….McKeon's characters may already have receded into history, but by imprinting their triumphs and tragedies onto the imagination with such visceral empathy, he has given them a deserving afterlife in this powerful novel."
— Anthony Marra, New York Times Book Review

"This daring and ambitious novel blends historical epic and love story…. Darragh McKeon handles the struggles of his characters with care and compassion and creates a book rich with resonance far beyond its historical moment."
— Colm Tóibín

"Brilliantly imagined in its harrowing account of the Chernobyl disaster and exhilarating in its sweep, All That Is Solid Melts into Air is a debut to rattle all the windows and open up the ventricles of the heart.…McKeon is here to stay."
— Colum McCann

"This debut novel is set in 1986, the year of the catastrophe at Chernobyl, and that disaster serves as the dramatic backdrop for the unfolding of action and character.… Serious and thoughtful fiction."
— Kirkus Reviews (starred review)

"McKeon's fiction serves up, without cliché, what so many futuristic dystopian novels aspire to: a reminder that human beings can bring about their own demise."
— Publishers Weekly

"Set amidst the Chernobyl disaster, McKeon's…graceful writing gives depth to his characters as they navigate indelibly changed landscapes and search for connection within chaos."
— Booklist

"This startling debut novel is a love story set against the harrowing tale of the Chernobyl nuclear disaster.… A promising debut; highly recommended."
— Library Journal (starred review)
Harper Perennial, 9780062246875, 464pp.
Publication Date: April 29, 2014
About the Author
Darragh McKeon was born in 1979 and grew up in the midlands of Ireland. He has worked as a theater director and lives in New York. This is his first novel.