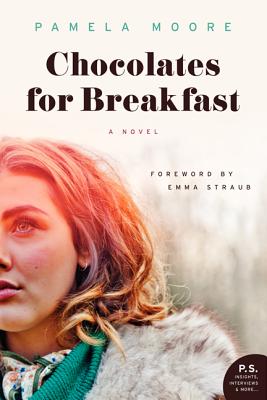 Chocolates for Breakfast (Paperback)
A Novel
Harper Perennial, 9780062246912, 304pp.
Publication Date: June 25, 2013
* Individual store prices may vary.
Description
Precocious and shocking when first published in 1956, Chocolates for Breakfast is a candid coming-of-age story of a young girl's sudden awakening to love and desire written by 18-year-old Pamela Moore.
 
Disaffected, sexually precocious 15-year-old Courtney Farrell splits her time between her parents' homes in New York and Los Angeles. When a crush on a female teacher in boarding school ends badly, Courtney sets out to know everything fast—from tasting dry martinis to engaging in a passionate love affair with an older man.
 
Considered an American response to French sensation Bonjour Tristesse, Chocolates for Breakfast is also a tale of Courtney's close and ultimately tragic friendship with her roommate, Janet Parker, and a moving account of how teenagers approach love and sex for the first time.
 
This edition of Chocolates for Breakfast features 16 pages of insights into the book, including author interviews, recommended reading, and more.
About the Author
Pamela Moore was an American writer educated at Rosemary Hall and Barnard College. Her first book, Chocolates for Breakfast, was published when she was eighteen and became an international bestseller. Moore went on to write four more novels, but none of these enjoyed the success of her first. She died in 1964 at the age of twenty-six, while at work on her final, unpublished novel, Kathy on the Rocks.
Praise For Chocolates for Breakfast: A Novel…
"Timeless. . . . Will surely continue to resonate with audiences for years to come."
— Publishers Weekly

"In Moore's resonating classic, sexually precocious 15-year-old Courtney, a bit of a female Holden Caulfield, copes with her parents' divorce and the splitting her life between New York and California. . . . It's poignant, edgy, and utterly readable."
— The Atlantic Wire

"This long-overdue reprint of a scandalous 1950s coming-of-age novel chronicles the exploits of a 15-year-old girl living very much beyond her years."
— San Francisco Chronicle

"Permeated with sadness and existential longing, Chocolates for Breakfast is about the disillusionment of wealth and the desire to find something real in a society that is constantly pretending."
— Los Angeles Review of Books

"Themes of sex, love, identity and friendship withstand time. Moore may no longer be with us, but her first novel is, rightfully, back on the shelves."
— Chicago Tribune

"Charming, substantive, and smart."
— The Rumpus

"A gem of adolescent disaffection featuring a Holden Caulfield-like heroine."
— Vogue.com

"Once I started reading it, I didn't want to stop, and it's certainly one of the best books I've read all year. . . . If your all-time favorite books include works of young-adult fiction (like Catcher), I strongly urge you to take a look."
— USA Today/Pop Candy

"Enduring edge."
— Barnesandnoble.com

"A new (well, not new, but new to most of us) addition to the smart, edgy coming-of-age female lexicon. . . . Especially perfect for any too-cool Class of 2013 high school girl in your life, or someone who just is one at heart. . . . Totally unputdownable in the best way."
— Jezebel

"Shocks and shocks again."
— Glamour

"[An] appallingly frank first novel by an extraordinarily precocious artist."
— Chicago Tribune

"Not very long ago it would have been regarded as shocking to find girls in their teens reading the kind of books they're now writing."
— New York Times

"This book is a sexier more cosmopolitan Bell Jar--young girl, manic depression, New York, LA. It is amazing. Everyone who loves The Dud Avocado will go crazy for this novel."
— Emma Straub, author of Laura Lamont's Life in Pictures

"Found this book long ago in my parents' library, a risqué looking paperback--and read it so many times I had to tape the pages back in. It was every naughty thing I hoped life would be like."
— Janet Fitch, author of White Oleander

"A coming-of-age novel of the most interesting variety. . . as relevant today as it did when published nearly 60 years ago, proving as shocking and important to today's world as it did in the 1950s."
— Shelf Awareness

"In a lot of ways, Courtney Farrell is on par with Lena Dunham's Hannah. She's learning how to live in New York City, indulging in a mindfully crafted martini or two, and engaging in affairs with older men."
— Village Voice