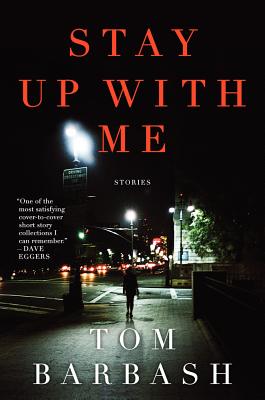 Stay Up With Me
Hardcover

* Individual store prices may vary.
Other Editions of This Title:
Paperback (5/20/2014)
Paperback (2/26/2015)
Description
The stories in Tom Barbash's wondrous and evocative collection explore the myriad ways we try to connect with one another and with the sometimes cruel world around us. The newly single mother in "The Break" interferes in her son's love life over his Christmas vacation from college. The anxious young man in "Balloon Night" persists in hosting his and his wife's annual watch-the-Macy's-Thanksgiving-Day-Parade-floats-be-inflated party while trying to keep the myth of his marriage equally afloat. "Somebody's Son" tells the story of a young man guiltily conning an elderly couple out of their home in the Adirondacks, and the narrator in "The Women" watches his widowed father become the toast of Manhattan's midlife dating scene, as he struggles to find his own footing in life.
The characters in Stay Up with Me find new truths when the old ones have given out or shifted course. In the tradition of classic story writers like John Cheever and Tobias Wolff, Barbash laces his narratives with sharp humor, psychological acuity, and pathos, creating deeply resonant and engaging stories that pierce the heart and linger in the imagination.
Praise For Stay Up With Me…
"Barbash is a true craftsman who sweats over every sentence, and that artistry makes you want to read the next story… These characters…really aren't like the rest of us, except–and this is the crucial part, this is why Barbash is worth reading–they hurt in precisely the same way we do…"
— New York Times Book Review

"These stories should come with a warning: They might undo you."
— The New York Times

"Sometimes it's hard to pinpoint the thread that binds stories in a collection together, but in the case of STAY UP WITH ME it's enough to say that each story is very, very good…Barbash seems drawn to characters…who are reeling from freshly broken families or relationships"
— Entertainment Weekly

"Fantastic…These Cheever-esque stories all show that Barbash has a sensitive ear towards the subtle ways that relationships are formed and altered, but he's also not afraid to open a story with a car accident and watch the sparks fly."
— The Daily Beast

"Barbash gives us a wise, infatuating collection that navigates the thorny passages of preoccupation more honestly than any recent fiction. With alarm and empathy, and often an irrepressible urge to laugh, we watch his characters dig their own graves and realize 'what it feels like to be lost.'"
— San Francisco Chronicle

"The new collection of short stories from Barbash…explores the difficult nature of human connection, whether it's a young couple holding a party amidst the struggles of their foundering marriage…or a young man having a rough time in the dating world, whose widowed father is having no problems finding love again."
— 7x7 Magazine

"Barbash makes a strong impression with his first collection of stories… he deploys a keen, incisive wit; consider 'The Women,' in which the narrator watches his widowed father connect on the midlife dating scene, even as his own love life fizzles."
— San Jose Mercury News

"STAY UP WITH ME is a cohesive compilation of 13 distinct stories, all of which evoke the intricacies of human nature… Altogether, Barbash's stories present a poignant cast of characters that will resonate with readers."
— Brooklyn Daily Edge

"Stay Up With Me is a superb collection of stories-sophisticated, lyrical and moving, incisive in depicting the emotional connections between parents and children, husbands and wives, strangers and lovers. Tom Barbash is a blazingly good writer."
— Jess Walter, author of the New York Times bestseller Beautiful Ruins

"Graceful. If Raymond Carver had lived in Manhattan he might have delivered stories like "The Break"…or "Balloon Night." - Kirkus Reviews
— Kirkus Reviews

"Is there such a thing as the Great American Story Collection? Yes, and this is it."
— Justin Cronin, author of The Passage

"This appealing collection reveals a supple writer who draws us in from the start of each new story, with none of the 'collection fatigue' one sometimes feels along the way from even the best practitioners of the genre. Highly recommended."
— Library Journal
Ecco, 9780062258120, 224pp.
Publication Date: September 10, 2013
About the Author
Tom Barbash is the author of the award-winning novel, The Last Good Chance, which was was awarded the California Book Award, and the short story collection Stay Up With Me, which was a national bestseller and was nominated for the Folio Prize. His nonfiction book, On Top of the World: Cantor Fitzgerald, Howard Lutnick, and 9/11: A Story of Loss and Renewal, was a New York Times bestseller. His stories and articles have been published in Tin House, McSweeney's, VQR, and other publications, and have been performed on National Public Radio for their Selected Shorts Series. He currently teaches in the MFA program at California College of the Arts. He grew up on the Upper West Side of Manhattan and currently lives in Marin County.
or
Not Currently Available for Direct Purchase