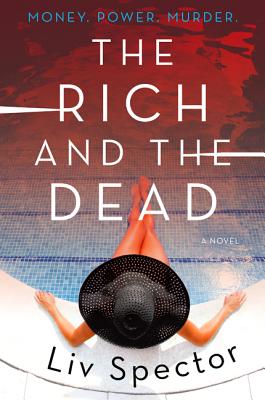 The Rich and the Dead
A Novel (Lila Day Novels #1)
Paperback

* Individual store prices may vary.
Description
To solve the crime of the century, she'll have to go back in time....
Welcome to Star Island, where Miami's wealthiest residents lead private lives behind the tall gates of their sprawling mansions. It's a blissful escape from the hot and dirty city—or it was, until New Year's Day 2015, when twelve of the most powerful people in the world were found murdered in the basement of a Star Island mansion.
The massacre shocked the nation and destroyed the life of investigator Lila Day. Her hunt for the Star Island killer consumed her. But the case went unsolved, resulting in her dismissal from the Miami PD.
Now, three years later, life hands Lila an unexpected second chance: reclusive billionaire Teddy Hawkins approaches Lila and asks her to solve the case. But how do you investigate a crime when all the leads have long ago gone cold? The answer, Teddy tells her, is to solve the case before it happens. He's going to send Lila back in time.
With nothing left to lose, an incredulous Lila travels back to 2014, determined to find the Star Island killer once and for all. But as she goes undercover among the members of Miami's high society, she finds herself caring for—and falling for—people who are destined to die that fateful night. Now she must either say good-bye or risk altering the future forever.
Praise For The Rich and the Dead: A Novel (Lila Day Novels #1)…
Time travel, glitz, and a colorful cast of characters collide in what is surely the most inventive whodunit of the year! — New York Times bestselling author Wendy Corsi Staub
[R]efreshing and intelligent, The Rich and the Dead is a fine-tuned, fast-paced thriller by a new name in the game. Be careful taking this début book with you on the train. You just might miss your stop. Totally absorbing. — New York Journal of Books
"Exciting debut...well-crafted thriller." — Publishers Weekly
"The combination of mystery, evil, glamor, and light science fiction makes for an engrossing series debut. — Booklist
"Spector's debut establishes an engaging, time-traveling heroine. " — Kirkus Reviews
William Morrow Paperbacks, 9780062258397, 320pp.
Publication Date: March 18, 2014
About the Author
Liv Spector was raised on Cape Cod and currently lives in Canada. She has worked as an oyster shucker, dancer, farmhand, journalist, and teacher. A graduate of McGill University in Montreal, she received her MFA from Brooklyn College.